Start Now
100 FREE Practice Questions INSTANTLY
What Is the ISEE® Test?
The ISEE® Test, or Independent School Entrance Exam®, is an admission test developed by the Educational Records Bureau (ERB). The Independent School Entrance Exam (ISEE Test) is an achievement/reasoning test that many independent schools around the country use to evaluate children for private school entry.  It was developed by the ERB.  It can be administered in an ERB office or at a school. The ISEE test has five sections (Verbal Reasoning, Quantitative Reasoning/Math Achievement, Reading Comprehension, and an optional Writing exercise) at three levels to evaluate children for entry into grades 5 and 6, grades 7 and 8, and grades 9 through 12.  The materials at TestingMom.com can be used for 4th, 5th and 6th graders applying to the next grade level.
Here's a practice question for the ISEE test:
The scale below is balanced. If one blue hexagon weighs 12 pounds, how much does one triangle weight?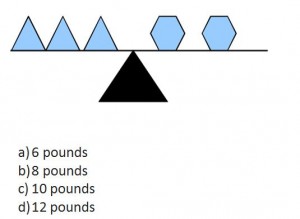 Do you need practice questions for the ISEE test? Go to TestingMom.com home page and sign-up for 100 free practice questions.
Independent School Entrance Exam® (ISEE®) is a registered trademark of the Educational Resource Bureau (ERB) or its affiliate(s), or their licensors. TestingMom.com is not affiliated with nor related to the Educational Resource Bureau (ERB) or its affiliates ("ERB"). ERB does not sponsor or endorse any TestingMom.com product, nor have TestingMom.com products or services been reviewed, certified, or approved by ERB. Trademarks referring to specific test providers are used by TestingMom.com for nominative purposes only and such trademarks are solely the property of their respective owners.
Tell Us Your Experiences
4 Responses
Kathy says:
I need to access the ERB test.
caelandancergirl says:
TestingMom.com says:
Click on the link at the top of the page that shows "100 Free Questions" – that will take you to the practice questions.
Ashley says:
Do you have any test prep materials for the ISEE Primary Test?