Blog home
› Brain Food for Kids: Carbohydrates
Brain Food for Kids: Carbohydrates
posted by Karen Quinn, The Testing Mom - October 26th, 2017
Your child should eat plenty of healthy carbohydrates for optimal brain function. When it comes to eating healthy nowadays, sometimes we dismiss all carbohydrates as being bad for you.  But that is not true.  Actually eating carbs from whole foods, like fruits, vegetables and legumes, provide high-quality fuel for your child's brain function.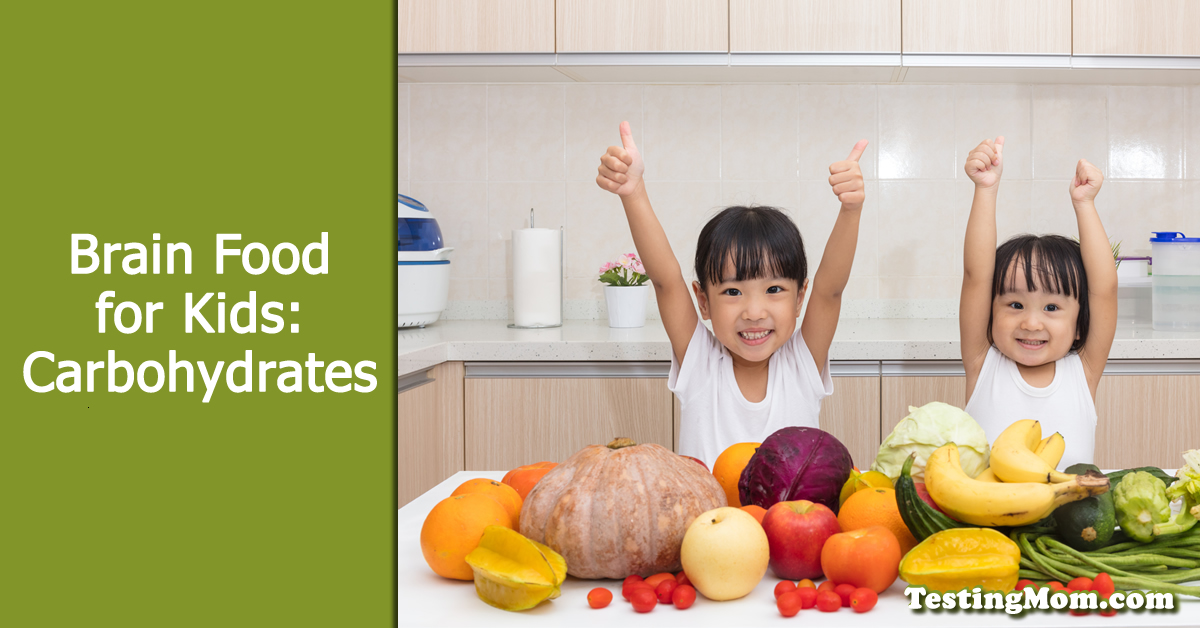 While not an extensive list, here are some good choices for your child.
Carbohydrates
Berries: Blueberries, raspberries, blackberries, and cranberries have been shown to support positive brain function. These fruits contain phytonutrients and antioxidants that increase blood flow to the brain.
Helpful tip: Add some honey for sweetness, or Greek yogurt (for protein), to an assortment of mixed berries! You can even make a parfait with your child by adding yogurt, granola, fruit, and some honey!
Squash: Squash is a great source of carbohydrates that is high in fiber and low in sugar. There are even greater benefits to cooked butternut squash, which contains 22 grams of carbohydrates!
Oatmeal: We cannot neglect to mention oatmeal as being one of the most fantastic super foods. Oats have been connected to improvements in heart health, as well as good cholesterol. Because of its high fiber content it will help satiate your child as they focus on their studies.
Quinoa: Quinoa is a unique carbohydrate, in that it is also considered to be a complete protein. Specifically, it contains all nine essential amino acids which cannot be produced solely by the body.
Helpful tip: Cold quinoa salads or even quinoa patties, are quick dinners that your children are sure to love. Experiment with some seasonings to spice up the dish. It is an easy meal to cook that you and your child can both become involved in. Simple yet nutritious meals may help to get your child involved in their own health practices! Such nutrition will be sure to translate to their overall well-being as well as their subsequent studying.
Bananas: A popular snack that contains 3 grams of fiber as well as a large amount of vitamin B6. This is a great option for a student who is not necessarily "hungry" but requires a bit of a "pick me up"
Sweet Potatoes: Rich in fiber, and packed with carotenoids. Not to mention, sweet potatoes are loaded with vitamin C, protein, as well as potassium. Who can argue with that?
Helpful tip: If you can, try and make sweet potato fries in the oven! It is such an incredibly delicious snack that serves as a fantastic finger food.
By sharing some of my top foods for studying, I hope that I was able to provide you with some nutritious (and delicious) options! These foods can be staples in the household as well as on the go. Because they are naturally high in vitamins and minerals, you do not have to worry that your child is getting the right nutrition. There are countless ways to prepare these foods, through various seasonings, preparation methods, and ingredient combinations. Ultimately, they will help cognitively support your child before, during, or after study sessions and test days. Food is invaluable when it comes to quality of performance, memory retention, and information retrieval! Happy eating and studying!
Healthy Food Series:
Share this article
Tell us about your experiences