NYC Gifted and Talented Programs
New York City offers two types of gifted and talented programs for children in kindergarten through 5th grade. The NYC Gifted and Talented Program is designed to foster the needs of exceptional students, identified either by their results on the NYC Gifted and Talented Test (for students entering kindergarten through third grade) or based on the student's New York State test scores (for students entering fourth or fifth grade).
Parents Respond to Changes to the Gifted and Talented Testing and Program
The changes to the New York City Gifted and Talented Program have been met with mixed reactions from New York City parents. Some people have welcomed the changes as a way to improve equity and access in the system. Other people have expressed concerns and frustration over the elimination of the gifted and talented test (OLSAT and NNAT-2) and the potential impact on high-achieving students.
Some parents have argued that the changes will lead to a reduction in academic rigor and a lowering of standards in the gifted program. They have also expressed frustration over the lack of clear information about the new admissions process and how it will affect their children's chances of being admitted to the ultra competitive program.
Other argue that the current system is unfair and perpetuates inequities in the education system. These people have welcomed the changes as a way to provide greater access to high-quality educational opportunities for all students, regardless of their background or demographic characteristics.
Overall, the changes to the New York City Gifted and Talented Program reflect ongoing discussions about how best to provide educational opportunities for all students. It will be important to continue monitoring the impact of the changes to ensure that all students in New York City have access to a high-quality education no matter where they live in the city.
Changes announced to the NYC G&T qualification process for 2022
Please read through the changes that were announced, along with the way we'll be adapting the work we are doing with our students who are preparing for kindergarten and G&T. NYC announced a hybrid lottery / questionnaire/assessment system to replace the G&T test that has been given in the past for entry into the G&T program. The press articles about this change are contradictory. We are waiting for clarification from the DOE on the specifics of how this will work. Here's what we know so far:
March 8 – parents can express interest in the G&T program for your child.
Following that, your child's preschool will (and this is where the articles contradict) a) conduct an evaluation or b) complete a questionnaire (an assessment vs. a questionnaire isn't clear) to determine your child's fitness for the accelerated program.
If your child is deemed eligible to apply, you will be notified in mid-May.
Your family will then apply for a specific seat and will be entered into a lottery with other eligible students.
If your child is currently not attending pre-K but still wants to apply, the DOE will conduct a remote interview with the student to determine eligibility.
These changes will only impact G&T for classes beginning Fall of 2021. In the meantime, Mayor de Blasio says they will rethink the G&T program for future years over the next few months. The new mayor elected in 2021 will ultimately decide what happens to the G&T program. Here are some articles about what was just announced:
Details Still Not Known
Will the child's preschool assess the child based on an instrument provided to them OR will the preschool answer questions via a questionnaire/checklist about the child's abilities?
What kindergarten readiness skills will be assessed or asked about? Will they be cognitive (thinking), academic (reading, math, writing) or "soft" skills (listening, following directions, etc.) or some combination of these?
What about students in K – 2nd grade – can they apply for G&T?
If your child qualifies for the lottery, how many schools will you be able to apply to? Will you be able to list your preferences in order? Or will you only be able to apply for "a specific seat" in one school?
Many other details have not yet been announced.

What does my child need to know or be able to do to qualify for the G&T lottery?
This has not been announced yet. However, most likely the assessment or the questionnaire would cover kindergarten readiness skills. Kindergarten readiness skills include any of the following:
Verbal Reasoning (thinking around verbal skills – aural reasoning, verbal analogies, verbal classification)
Quantitative and Nonverbal Reasoning (thinking around math – shapes, patterns, figural classification, figural or mathematical analogies)
Early Literacy (pre-reading, letter sounds, sight words)
Early Math (counting, early addition and subtraction, relativity, size/comparisons/left/right)
Early Knowledge/Skills – colors, numbers, letters, early reading behaviors, print behaviors, math behaviors, social skills, gross and fine motor skills, school readiness behaviors such as language, listening, following directions, cooperating, focusing, staying on task, turn taking, and more)
If your child is in tutoring or small group classes for G&T, we will be making these changes to our sessions to support your child's kindergarten readiness and qualification for the program:
1) Previously, we were focused on preparing for the OLSAT and NNAT tests, two cognitive tests that were used to qualify students for G&T. We will no longer put our attention on these two tests specifically, although we will continue to work on the cognitive skills that were covered in these tests (verbal, quantitative and nonverbal reasoning around shapes, figures and patterns). 2) We will add to the work we are doing kindergarten readiness academic skills such as early literacy, early math, and knowledge – skills that are mentioned in the question above. We believe that focusing on these skills will serve your child by both readying them for school and for any assessment/questionnaire for G&T.
If you are a Testing Mom member who wants to work on kindergarten readiness skills, where should we go on the site?
1) Kindergarten Readiness Section 2) Practice for the AABL test – this is a kindergarten readiness test that used to be used for private school entry. It covers Verbal and Quantitative Reasoning, Early Literacy and Math 3) Practice for the BSRA test – this is another kindergarten readiness test that used to be used for NYC G&T entry. It covers letters, numbers, shapes, colors, relativity, size/comparisons Do not forget about our Skill Building Academy programs. For Kindergarten Readiness, we highly recommend Dream Box Math, Reading Kingdom and Brain Pop, Jr. As soon as we know more details, we will let you know! In the meantime, if you have any questions, please reach out to us at 877-609-6203. Best, Karen Quinn The Testing Mom The material on this page will cover the program itself and admissions into the program. You can view more about individual schools on our page for Gifted and Talented Schools in NYC.
100 Free Gifted Practice Questions
What is the Gifted and Talented Program in NYC?
There are two types of gifted and talented programs within New York City, the Citywide Program and the District Program. Here's a quick breakdown of the differences between the programs:
|   | District Programs | Citywide Programs |
| --- | --- | --- |
| Admission Requirements (K-3) | Score of 90 or higher (though in practice, 95 or higher) | Score of 97 or higher (though in practice, score of 99 or higher) |
| Classroom Format | Classrooms for G&T Program AND General Ed Programs (classes like art and gym may be a mix from both programs) | All Classrooms for G&T |
| Boroughs with Programs | All Boroughs | No Schools in Bronx or Staten Island |
| Student Home Location | Students living in district are high priority | Students residing in all part of the city, including Bronx and Staten Island, may attend |
| Total # Of seats available (2017) | ~2,500 | ~300 |
| Total # of Applicants (2017) | 34,902 | 34,902 |
| Applicants per Seat | 14 | 116 |
NYC Gifted and Talented Curriculum
There is no standardized curriculum across the NYC Gifted and Talented program other than that they must meet Common Core Learning Standards for math and English Language Arts and meet New York State Learning Standards for other subjects. While the programs are not standardized, there are some common features among them:
Adapt and modify instruction to meet the needs of different types of students
Use specific instructional learning protocols such as Pinnell System, Math in the City, Everyday Math, Full Option Science System
Accelerate the curriculum found in general ed
Take a deeper dive into material
Encourage students to work above their grade level
Since it is up to the school to come up with its own curriculum and offerings, they may choose a school-wide focus on a certain discipline, like science, technology, or the arts. Some schools may also offer certain classes not found in others, like chess, or violin lessons. If your child is eligible to apply to multiple schools with a G&T program, you should go to the school and ask about their curriculum. For more details about schools, visit our NYC Gifted and Talented Schools page.
What Grade Levels are Testing for G&T in NYC?
Children are tested at Kindergarten through 2nd Grade for Gifted Admission in NYC G&T Program. They are tested again for admissions to the Gifted and Talented NYC program in Middle School and High School based on test results and previous state standards test results.
Admissions Process for NYC G&T
The admissions process for Gifted and Talented NYC has many deadlines, and missing any of them could severely impact your child's education. Admissions are based on test scores – kindergarten through third grade are based on the NYC Gifted and Talented Test and fourth and fifth grade are based on state tests. Below is an overview for the timeline of the admissions process for K-3:
September: School begins
October: Register online with the DOE to select test location and time.
October: DOE parent information sessions
January-February: Child takes the test
April: Child's results mailed to parents
April-May: School tours and applications submitted online for qualified students
May-June: Final placement letters sent to parents
Click to view our admissions timeline infographic: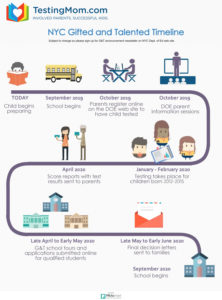 There is less to do for admissions into the fourth and fifth grade G&T programs. You need to submit a request for placement, generally sometime in August, either online or by mail. Not all schools accept applicants for the 4th and 5th grade G&T programs! Additionally, only schools that are K-6 or K-8 accept applications for placement for 5th graders.
Admission Rates by Grade
It's easier to get admitted into the NYC Gifted and Talented Program if your child is in a lower grade, with the offer rate for kindergarten being more than double that of third grade. Therefore, if you are unsure if your child should apply to the Gifted and Talented NYC program, you are better off applying, rather than waiting until the following school year to apply. You can always drop out of the G&T program if you find that it isn't the right fit for your child, but in practice very few parents do this.
| Applying Grade | Tested | Eligible | % Eligible | Offers | % of Eligible Receiving and Offer |
| --- | --- | --- | --- | --- | --- |
| K | 16,582 | 4,467 | 27% | 2,366 | 53% |
| 1 | 7,714 | 2,209 | 29% | 888 | 40% |
| 2 | 5,714 | 1,844 | 32% | 463 | 25% |
| 3 | 4,892 | 1,477 | 30% | 301 | 20% |
| Total | 34,902 | 9,997 | 29% | 4,018 | 40% |
Additional Resources for Preparing for NYC G&T Admissions
TestingMom.com offers select free materials for research on the NYC Gifted and Talented Program. TestingMom.com members can access practice materials, a list of NYC tutors we recommend, and can call or e-mail our Student Success Team for any needs specific to their individual children. Below are more free resources we offer:
Additional Resources by Grade
Additional resources: For expert admissions help getting into NYC's best private schools, go to Abacus Guide Educational Consulting Want to try us out? Sign up for a free account today and get 100 practice questions.
100 Free Gifted Practice Questions
See if TestingMom.com supports your child's test by your school district. If you don't see your child's school district listed, check with us! We have practice for other tests as well.