NWEA MAP® Test Overview

What is the MAP Test?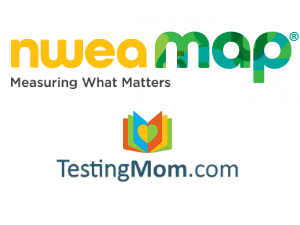 The NWEA MAP Test (Measures of Academic Progress) creates a personalized assessment experience by adapting to each student's learning level—precisely measuring progress and growth for each individual student. If your child correctly answers a question, the computer assessment provides a harder question next. If they miss that same question, then an easier question is asked. This provides essential information about what your child knows and is ready to learn.
The NWEA MAP is published by the Northwest Evaluation Association (NWEA) and is given via computer to children in grades K-12. Its structure is cross-grade, which provides measurement of students who perform on, above, and below grade level. It is multiple choice and provides questions that are depth of knowledge, so that you can see if your child performs at level 1, 2 or 3 of difficulty. The test is untimed, but students generally spend about 60 minutes per subject area. Feedback results are available in 24 hours. The MAP is not a high-stakes test, but is given to students at the beginning, middle, and end of the school year to measure a student's academic achievement and calculate academic growth. The MAP gives teachers a way to focus and plan for how they use time for either intervening with students or providing enrichment (if your child qualifies) to challenge higher-level students.
The MAP Test assessments reveal precisely which academic skills and concepts your child has acquired and what he/she is ready to learn. MAP assessments are grade independent and adapt to each student's instructional level, so that you can track your child's achievement and notice trends to help with setting objectives. Every item on a MAP assessment is anchored to a vertically aligned equal interval scale, called the RIT scale for Rasch UnIT—a stable measurement, like inches on a ruler, that covers all grades. Because the measurement is reliable and accurate, RIT scores serve as an essential data point in a student's learning plan; educators can see their precise learning level and respond accordingly.
NWEA MAP Skill Assessment for Primary Grades – Reading and Language Usage
Screening Assessment
Diagnostic test with results reported in number correct
PRI-READ-Screening (Early Literacy)
Skills Checklist Assessments
Diagnostic tests with results reported in both percent and number correct
PRI-READ-Skills (Consonant Blends/ Digraphs)
PRI-READ-Skills (Decode: Multi-Syllable Words)
PRI-READ-Skills (Decode: Patterns/ Word Families)
PRI-READ Skills (Letter Identification)
PRI-READ-Skills (Manipulation of Sounds)
PRI-READ-Skills (Matching Letters to Sounds)
PRI-READ-Skills (Phoneme Identification)
PRI-READ Skills (Phonological Awareness)
PRI-READ-Skills (Syllable Types: CVC, CVCe, R-Control)
PRI-READ-Skills (Vowel Digraphs/ Diphthongs)
Survey w/ Goals Assessments
Adaptive tests with results reported in RIT scores
PRI-READ-Survey w/ Goals (PhonAware, Phonic, ConPrnt)
PRI-READ-Survey w/ Goals (Vocab, Comprehen, Writing)
Science – Concepts, Processes and General Science
General Science covers specific science concepts within the three major domains of science: Life sciences, earth and space sciences, and physical sciences.
Concepts and Processes measures a student's performance in both the processes used in science and the major themes underlying the science disciplines.
Test items for MAP for Science are helpful for assessing students up to and including 10th grade, prior to more specialized science curriculum in upper high school. MAP for Science is aligned to state standards, and to the two national standards established:
The American Association for the Advancement of Science Benchmarks for Science Literacy
The National Research Council's National Science Education Standards
Mathematics
Screening Assessment
Diagnostic test with results reported in number correct
PRI-MATH-Screening (Early Numeracy)
Skills Checklist Assessments
Diagnostic tests with results reported in both percent and number correct
PRI-MATH-Skills (Comp:10 – Using Manipulatives)
PRI-MATH-Skills (Comp:10 – Using Numbers)
PRI-MATH-Skills (Comp:10 – Problem Solving)
PRI-MATH-Skills (Comp:20 – Using Manipulatives)
PRI-MATH-Skills (Comp:20 – Using Numbers)
PRI-MATH-Skills (Comp:20 – Problem Solving)
PRI-MATH-Skills (Comp:100 – No Regroup – Using Manipulatives)
PRI-MATH-Skills (Comp:100 – No Regroup – Using Numbers)
PRI-MATH-Skills (Comp:100 – No Regroup – Problem Solving)
PRI-MATH-Skills (Comp:100 – w/ Regroup – Using Manipulatives)
PRI-MATH-Skills (Comp:100 – w/ Regroup – Using Numbers)
PRI-MATH-Skills (Comp:100 – w/ Regroup – Problem Solving/ Estimating)
PRI-MATH-Skills (Comp:1000 – Using Manipulatives)
PRI-MATH-Skills (Comp:1000 – Using Numbers)
PRI-MATH-Skills (Comp:1000 – Problem Solving/ Estimating)
PRI-MATH-Skills (NumSense:10 – Count, Order, Place Value)
PRI-MATH-Skills (NumSense:10 – Representation)
PRI-MATH-Skills (NumSense:20 – Count, Place Value)
PRI-MATH-Skills (NumSense:20 – Representation)
PRI-MATH-Skills (NumSense:20 – Ordering)
PRI-MATH-Skills (NumSense:100 – Count)
PRI-MATH-Skills (NumSense:100 – Representation)
PRI-MATH-Skills (NumSense:100 – Ordering)
PRI-MATH-Skills (NumSense:100 – Place Value)
PRI-MATH-Skills (NumSense:1000 – Count)
PRI-MATH-Skills (NumSense:1000 – Representation)
PRI-MATH-Skills (NumSense:1000 – Ordering)
PRI-MATH-Skills (NumSense:1000 – Place Value)