Blog home
› Bureau Statistics: Better Education Means More Business Opportunities
Bureau Statistics: Better Education Means More Business Opportunities
posted by Karen Quinn, The Testing Mom - October 15th, 2013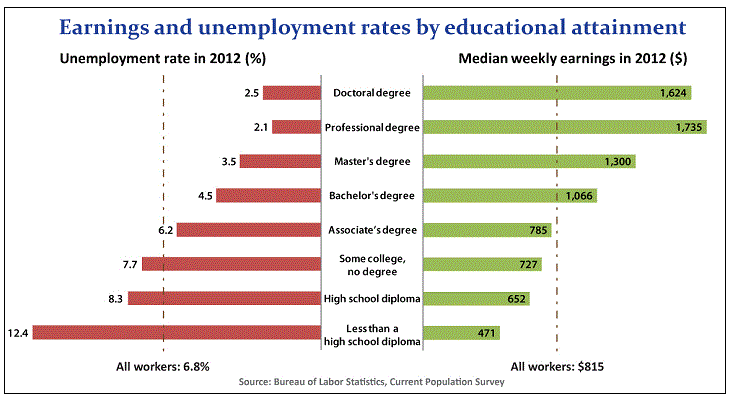 Here at Testing Mom we hear lots of complaints from parents about how they can be better at the business of preparing their child. We made it easy! Based upon stats from the Bureau of Labor Statistics, median weekly earnings rise with each level of education attained, from less than a high school diploma up through a professional degree. The takeaway from the Bureau statistics is clear: The better-educated your child is, the more secure his or her financial future will be.
Don't panic: TestingMom.com makes it simple to better prepare your child for the business of testing and excelling in school. The Bureau statistics make plain that you have to take your child's education seriously. That's why Testing Mom offers over 25,000 practice questions for over a dozen standardized tests, as well as material to help prepare for the common core and educational enrichment programs available through our Space Baby Academy.
Test prep is a common and seemingly simple obstacle. But the business of education doesn't stop after your child takes the test. It's important for your child to get better in all areas of his or her academic career, be it math, spelling, reading, writing, or music and arts. TestingMom.com has resources to help your child get better in all these areas, so that she ultimately receives a great education and lands a good job, whether in business, public service, or the arts. The Bureau statistics cited above make plain that a subpar education won't propel your child to bigger and better things.
Here at Testing Mom, we are committed to helping your child get better and better at the business of education. That's why we offer round-the-clock customer support and, for our Top Members, expert answers on the issues that your child is facing. With practice and a business-like approach to education, your child will continually get better, and ultimately find him or herself at the top of the Bureau chart!
Share this article
Tell us about your experiences
2 Responses