Blog home
› Combating the Summer Slide: An Active Approach to Preventing Brain Drain
Combating the Summer Slide: An Active Approach to Preventing Brain Drain
posted by Karen Quinn, The Testing Mom - June 25th, 2023
It's a phrase that elicits joy in the hearts of children and sometimes anxiety in the minds of parents and educators – 'summer vacation.' While the summer break undoubtedly presents a much-needed break from classroom activities, it's a phenomenon called the 'summer slide' or 'brain drain' often lingers in the shadows as we head into the summer months.
The summer slide refers to the significant learning loss that students experience during their summer vacation. According to a study published in an American Education Journal, the average student loses up to 34 percent of the prior year's learning during the summer months. This brain drain can set students back at the beginning of the new academic year, requiring them to spend valuable time relearning forgotten material and playing catch-up.
So, how can parents and caregivers counteract this slide for their kids? Great question! The answer lies in blending fun, outdoor activities with subtly educational experiences. Here are ten activity suggestions that we suggest you can incorporate into beach days, park visits, hiking adventures and outdoor play to keep children engaged and learning throughout the summer.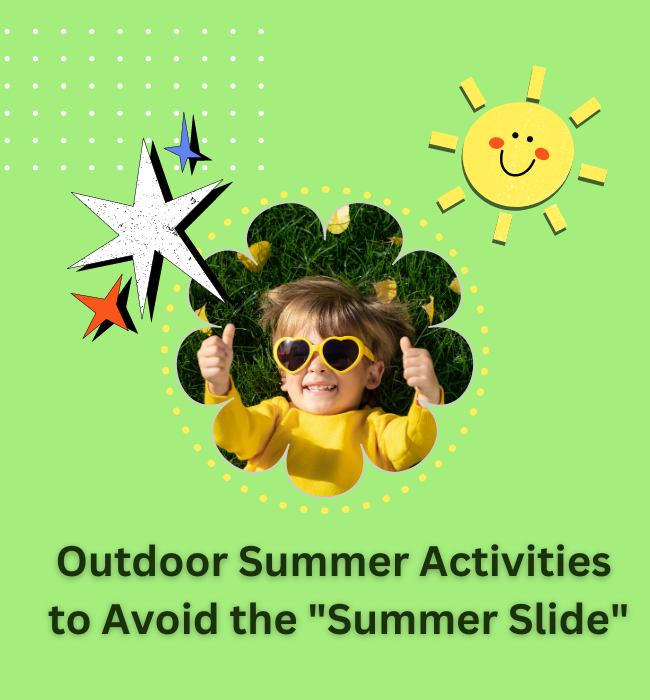 10 Fun and Educational Outdoor Activities for Kids to Prevent the "Summer Slide" and "Brain Drain"
Nature Scavenger Hunt (Hiking)
Make a list of items commonly found in nature – different types of leaves, rocks, flowers. This fun game enhances observational skills and can be a gateway to discussions about biodiversity.
Map Reading (Hiking)
Encourage your child to navigate trails using a map. This practical skill strengthens spatial reasoning and gives kids a real-life application of geometry and geography.
Sandcastle Competition (Beach)
Designing and building a sandcastle can be an enjoyable introduction to engineering principles. Discuss how the size and shape of structures can affect their stability.
Beach Math (Beach)
Gather shells or pebbles and use them to practice addition, subtraction or grouping exercises. Make it a fun challenge by timing each round.
Cloud Watching (Park)
Have your child identify different cloud types and discuss the weather associated with each type. This is a hands-on introduction to meteorology.
Leaf Art (Park)
Collect various leaves and use them to create art. This can lead to conversations with your child about different tree species and the changes they undergo during different seasons.
Storytelling Relay (Outdoor Play)
Start a story and pass it on, each person adding a new sentence or twist. This is a fun way to enhance creativity, language skills, and the ability for your child to think on their feet.
Gardening (Outdoor Play)
Grow a mini garden, teaching children about plant life cycles and the importance of patience, care and responsibility.
Sports (Outdoor Play)
Apart from physical fitness, team sports promote strategic thinking, cooperation and leadership skills.
Bird Watching (Hiking, Park)
Identify different bird species and learn about their habits. A simple pair of binoculars can turn this into an exciting exploration of avian life.
Each of these activities weaves learning into a fun, relaxed, and engaging context, keeping young minds active during the summer months. It's all about balance and variety. Combining these educational activities with plenty of free play and rest will create a summer that's both enjoyable and enriching.
Remember, the goal isn't to recreate the classroom environment, but to encourage learning as a natural part of life. While we might not be able to completely eliminate the summer slide, these proactive steps can mitigate its effects, ensuring students return to school in the fall ready to learn, grow, and excel. With a little creativity, the "brain drain" can become a "brain gain," turning the potential pitfalls of summer break into opportunities for exploration and growth.
Here are more articles about how to prevent brain drain during the summer months:
Share this article
Tell us about your experiences