Blog home
› Community Service Works for Children: Learning to Make an Impact in Your Community
Community Service Works for Children: Learning to Make an Impact in Your Community
posted by Karen Quinn, The Testing Mom - February 18th, 2020
Many of us can relate to the satisfying feeling of doing something nice for others. Whether it is a conscious or spontaneous decision, being open to making just a small change in the hopes of benefiting others is something from which most of us achieve personal satisfaction.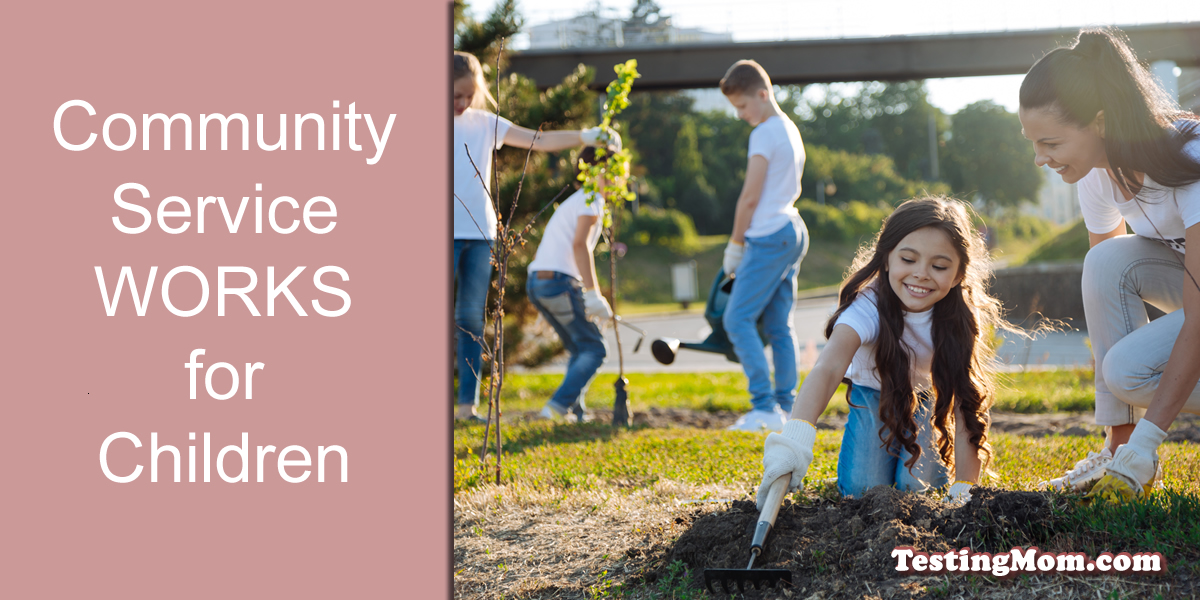 100 Free Gifted Practice Questions
In essence, learning to be selfless does not have to be hard. It can be demonstrated in something as simple as holding a door, assisting a visually impaired person across the street or giving someone a simple smile. Such acts not only benefit the person on the receiving end, but allow you to understand that you can make a difference in even the simplest of ways. It is important to give back in small, yet powerful, ways. As adults, many of us understand the satisfaction that we feel when we do our part. Why not work to get our children involved, so that they too can benefit their community in a positive way?
Community Service Works for Children
Today, we will be discussing how community service work, or volunteer opportunities, enhances social, emotional, and academic growth amongst youth. Most importantly, we will be discussing this topic with the understanding that service-based work helps to develop, nourish, and provide support to organizations and communities of people who are disadvantaged or much less privileged. When children participate in this type of work, they are assisting others without the expectation that they will be receiving any financial compensation. They learn to appreciate how personal gain does not have to be monetary, but can be achieved when other individuals and communities receive necessary supports.
Developing Empathy, Understanding, and Kindness through Community Service Learning
As parents, many of us share one common goal. We all want our children to be kind, caring, and genuine individuals who make meaningful contributions to society. While we wish to develop these qualities in our children, it is not always possible. While we can promote these traits, children often must have their own lived experiences in order to truly understand what it means to be kind and compassionate. When children volunteer at organizations such as soup kitchens, homeless shelters, or food drives, they are gaining critical insight into other people's personal situations. While this can be a mature and often complex concept to grasp, they are learning to think about others. They may begin to grasp the idea that other children and adults do not necessarily have the same luxuries or simple pleasures that they do. For example, they may begin to see how food is scarce for others, money is not as abundant, and other individuals may not be able to receive the same health care as they. Little observations such as these all contribute to their developing perspective on how other people live day-to-day. This kind of understanding cannot be taught but must be observed in order to fully understand one's own privilege. Once your child grapples with this idea, they may begin to see how their personal contribution is absolutely invaluable for others. I am a firm believer in the idea that your child's personal sense of self worth, as well as their ability to promote change will develop as a result of their contributions. Developing this understanding at a young age will benefit your child in helping to lay the groundwork for their compassion, patience, and understanding of other individuals challenges.
Allowing Your Child to Develop Their Own Passion For a Good Cause
An essential part of choosing community service work is exploring the types of causes to which you feel drawn. There does not have to be one particular opportunity, but multiple. That is the beauty in such work. Try sitting down with your child and brainstorming a thorough list of different volunteer opportunities. Sometimes creating a web with different ideas, can help your child to narrow down the type of work in which they wish to participate (see graphic below). For example, if your child is interested in animals or adoption based work, animal shelters or veterinary clinics may be two possibilities. Of course, it is important to keep in mind that all organizations may have age restrictions or eligibility requirements for voluntary participation. Just make sure to keep this in mind when you and your child are doing your research. Ultimately, a child should be motivated and committed when going into a service opportunity. It will not only help to improve the quality of their work, but will assist with their personal dedication and increase the time they commit to a cause. It will also provide your child with a sense of agency and independence, as they are being granted with the opportunity to volunteer at an organization that aligns with their passions and philosophies.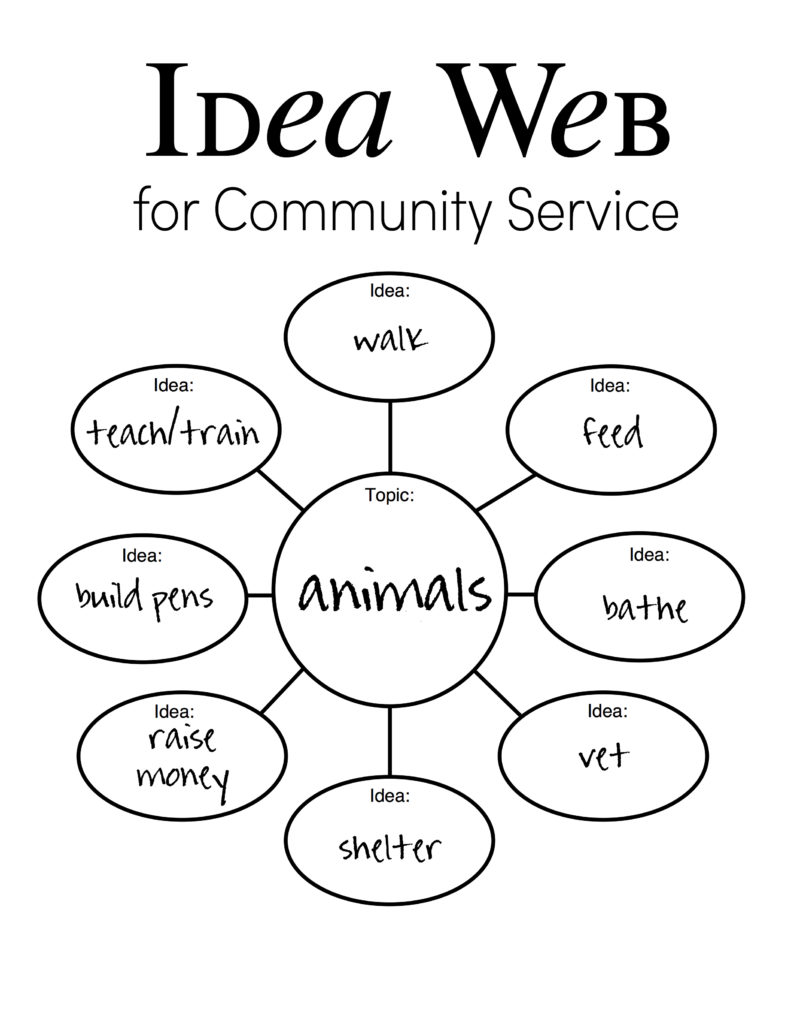 Community Service Assists with Promoting Cooperation, Leadership, and Communication
It is important to point out how important this next topic is when discussing the benefits of community service for youth. When your child enters into any volunteer position, they are often required to work in a team that varies in size. It is likely that your child may not even be familiar with these individuals as they may be of a different age, or may have come from a different school or hometown. Regardless, the real challenge lies in your child's ability to develop his or her own voice and the ways in which they choose to approach the work. At the same time, they will be presented with a unique opportunity to work on establishing a common goal with his or her team members. Additionally, it is important to feel comfortable, supported, and communicative on a team in order to function as a unit. It will not only allow your child to feel motivated but to feel confident if they wish to take more of a leadership position. Such volunteer opportunities have the potential to be excellent for children who feel less comfortable voicing their thoughts and opinions in an academic setting. A change in environment that doesn't necessarily involve their school peers, may provide them with the space they need when it comes to developing plans of action, presenting in front of groups, and interacting with individuals who they are helping to service. The skills that they develop during their volunteer experiences are highly transferable, as they are likely to positively influence their group work, peer interaction, and leadership abilities in school.
Volunteering and Its Influence on College Admissions
For many students, community service is a mandatory requirement that must be fulfilled during the course of their academic lives. It is not uncommon that students are required to complete a certain amount of service hours as a part of their graduation requirement. While this requirement can sometimes feel unrealistic when in the midst of homework, exams, and extracurriculars, it is an opportunity that most colleges look upon fondly. Most colleges are impressed by students who demonstrate a long term commitment to a voluntary experience. Consistency, discipline, and a genuine passion for a cause are all qualities that admissions officers want to see. It is important to mention that this volunteer position does not have to be overly fancy or prestigious, but instead an opportunity where the student is able to make a positive contribution to a cause.  Colleges want to see that their students will be meaningful members of society who are passionate about making changes to a facet of their local community, or on more of a global scale. The discipline that is required of any student who serves as a volunteer can also reflective of an ambitious, consciousness, and self-motivated individual. Discovering one's passion for a service based niche early on will only positively impact a student when it comes time to applying for schools. Making a difference in even a small way is more meaningful then one can even imagine.
Volunteering Together As a Family!
Ever wonder how you could spend a weekend together as a family? Volunteering is a great way to involve the entire family in an activity that allows you to make a meaningful impact in a real way. It is also a fantastic opportunity for your family to bond, work together, and think critically about a good cause. During the course of a  busy week family time can be scarce. These service opportunities are able to help build and solidify connections between family members, all while you work to benefit others. For young children, it is important for them to be a shown a model of what it means to be a kind and helpful citizen. As a parent, you can serve as a real role model for your children, inspiring them to continue such work on their own! When they see you being compassionate and advocating for a good cause, they took will most likely experience a similar drive and dedication.
100 Free Gifted Practice Questions
I hope that from this post you were able to gain further insight into just a few of the  significant social, emotional, and academic gains that a student can experience from volunteer work. Although there are so many more that we could look into I wanted to narrow in on just a few important ones. I cannot neglect to mention that these positions are essential for most organizations, as volunteers are the people that help to propel, develop, and provide outreach for a cause. Dedicating just a few hours of your time is absolutely invaluable. Your children will be making more of a difference then even they know. Along the way, they may build friendships, network with community members, and gain some insight into possible career opportunities throughout their experience.
Share this article
Tell us about your experiences
2 Responses