Blog home
› Do Youngest Kids in Class Struggle Most?
Do Youngest Kids in Class Struggle Most?
posted by Karen Quinn, The Testing Mom - January 30th, 2020
It's not too early to start considering the upcoming school year.  In fact, many of those decisions and registrations are coming down the pipes right now.  If you have young children starting school in the fall, who are on the young-side of the group for Kindergarten, you may be wondering if you should start them early or delay another year. Some studies are saying you might want to err on the side of caution, before entering your child early. You may be setting your child up for a really difficult path.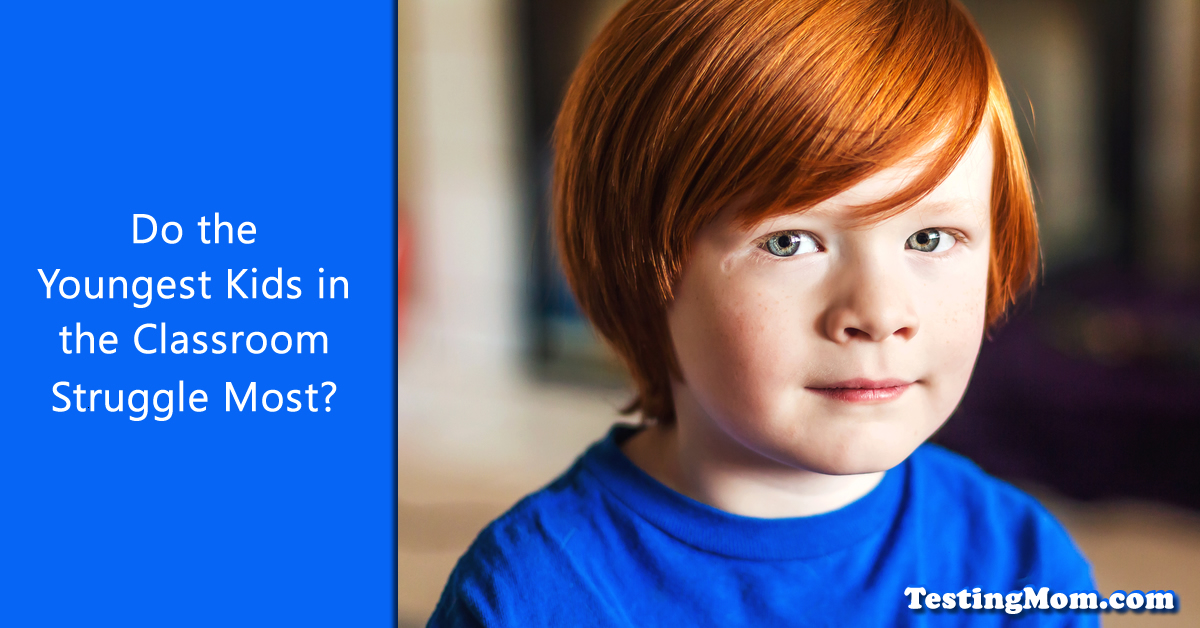 100 Free Gifted Practice Questions
Do the youngest kids in the classroom struggle most?
On CBS, This Morning, they interviewed a psychologist, Lisa Damour, who said that there are many factors to consider before deciding to enter your child in Kindergarten early.
Damour said, "So there's a lot we can do to get this right. First of all, we have to remember that development is multi-faceted. There is intellectual development; there is social development; there is emotional development; there is physical development. You don't want one of those driving the decision. So some people might say my four year old reads, and put him ahead. But if the four year old can't share, we should reconsider. Similarly, you can have a kid who is terrifically skilled socially, but lacking academically. So look at the whole picture."
A child's age compared to classmates affects them with a 30% higher chance of developing depression, adhd and learning diasabilities, according to a study from JAMA Pediatrics. Their research shows that a child's age, compared to their classmates, could impact their mental and behavioral health. Developmentally, they do not have skills for attention that other children have and do not keep up with social queuing, missing positive and negative hints in social interaction.
Damour added, "Ask the pre-school teachers, as they are comparing your child to hundreds of others. And we, as parents, cannot be neutral about our own children. In making the decision, err on the side of caution, then push enrichment later, if they are ahead."
My Personal Story
As a parent of two summer babies, my husband and I struggled with the decision of whether our children were ready to begin school. We had them both in preschool, and we felt that they were ready for a classroom environment–their preschool teacher thought so, as well. So we jumped right in.
For the older of the two, our son thrived in the school environment academically, socially and emotionally, but physically there was a drawback. In 7th grade, he would enroll in football for the first time, and by day three, his wrist was broken in two places, potentially affecting the growth plate (it thankfully did not have long-term effects). His peers were just further along physically.
But it turned out well. For he became the water boy for the year, and in so doing, he learned how to serve others and be caring–with a reward of making lifelong friends and garnered their respect, as well. Now in high school, it has really served him well. These guys are still good friends and he is physically caught up with them, as well. He is thriving overall. So the decision to start him early was a good one.
For our youngest, our daughter, we followed with her starting early, like her brother. And it was a complete disservice to her. She began in half-day Kindergarten and could not read nor memorize site words, at all. The teacher recommended that we hold her back, but we did not listen. We entered her into first grade, and within two weeks the teacher (who had also taught our son), said to us, "You need to put her back now. She is already slipping behind. It's not too late." We heeded her words, listening this time, and put our daughter back into full day Kindergarten, hoping she wouldn't be greatly affected.
It turned out that our daughter would be diagnosed with dyslexia. So academically, she had been behind, while socially, she was completely ready. Now in seventh grade, she is thriving, as among the oldest in her grade, making great grades and developing lifelong friendships.  But she has had to work extra hard to get to where she is. We are thankful, too, that we live in a state, where extra dyslexia classes are readily available. It was a bridge for her. She reads all the time now. And she encourages other students, because she understands what it is to struggle.
So then, what should you decide?
Well it all depends on your child, first and foremost. Consider all the implications down the line, as well–aspects like physical growth and development (puberty), as well as your child's mental health.  The earlier study from JAMA shows a high risk of behavioral problems for younger kids, as they looked at data from more than one million kids ages 4 to 15 in Britain. But also, you might want to consider the following tips from CBS, This Morning.
If you decide to delay, here are some aspects to consider:
intellectual, social, emotional and physical development
teacher recommendation
better to delay Kindergarten
avoid repeating a grade
Above all, you are the best decision maker for your child. Even though it was hard in some ways for our own children, they have been resiliant and have learned how to make a success out of what could have been failure. While they struggled, they also grew, which created a training ground of life lessons that will serve them positively for their lifetime.

100 Free Gifted Practice Questions
Resources to Try
If you are looking to help your young child develop their general knowledge, these are great resources!
Check out our Testing Mom Amazon page for all our wonderful resources!
Share this article
Tell us about your experiences
2 Responses