Blog home
› Early Literacy Skills Needed for The Admissions Test for Beginning Learners® (AABL® Test)
Early Literacy Skills Needed for The Admissions Test for Beginning Learners® (AABL® Test)
posted by Karen Quinn, The Testing Mom - July 15th, 2014
The AABL® Test assesses a child's skills in the area of Early Literacy. This covers a myriad of individual abilities, including:
Early Literacy Skills
• a good vocabulary,
•ability to identify numbers, letters, shapes ,
•knowledge of letter sounds,
•can recognize and use rhyme and alliteration (Peter Piper picked a peck…),
•can break words into syllables,
•understands that words are made of discrete sounds and can work with these sounds (phonological awareness),
•has print awareness – knows books are read from left to right, top to bottom, squiggles on page represent letters that make sounds that combine to make words, etc.,
•can retell a story that was read to him,
•knows that stories have a beginning, middle and end,
•can make up stories based on pictures in a book.
Below are two examples of questions in the area of Early Literacy. There are many different types!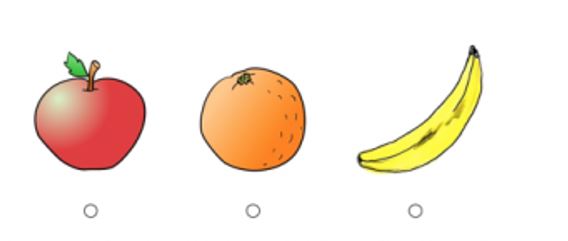 Look at these pictures. Choose the picture that best goes with the word "citrus." (Answer: the orange)

Look at these pictures. They are of a leg, an egg, and a shoe. Choose the picture that doesn't rhyme. (Answer: the shoe)
Hundreds of practice questions to build your child's early literacy skills are available at www.TestingMom.com. After you join at the top 1% level, just log in, go to Select Practice Questions, and then go to practice questions for The Admissions Test for Beginning Learners® (AABL® test).
AABL® – Admissions Assessment for Beginning Learners® is a registered trademark of the Educational Resource Bureau (ERB) or their affiliate(s), or their licensors. TestingMom.com is not affiliated with nor related to the Educational Resource Bureau (ERB) or their affiliates ("ERB"). ERB does not sponsor or endorse any TestingMom.com product, nor have TestingMom.com products or services been reviewed, certified, or approved by ERB. Trademarks referring to specific test providers are used by TestingMom.com for nominative purposes only and such trademarks are solely the property of their respective owners.
Share this article