Blog home
› Engaging Educational Activities for Kids on Summer Vacation: A Top 10 List
Engaging Educational Activities for Kids on Summer Vacation: A Top 10 List
posted by Karen Quinn, The Testing Mom - May 31st, 2023
The summer months are a great time for family vacations, but many parents worry about the "summer slide"—the learning loss that children can experience when they're out of school for an extended period. Research from the Brookings Institution shows that on average, students' achievement scores decline over summer vacation by one month's worth of school-year learning. To prevent this, it's essential to incorporate educational activities into your summer travels.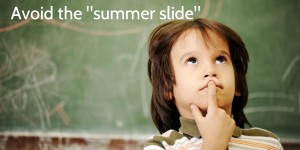 Here's a top 10 list of fun, engaging, and educational activities you can enjoy with your little ones on your summer adventures.
Nature Journaling – Explore the outdoors and let your child document the journey. Encourage them to draw and describe the plants, animals, and landscapes they encounter. This activity boosts their observation, writing, and drawing skills.
Museums and Cultural Sites – Most cities and even small towns have museums or historical sites. Visiting these places can provide educational insights into art, history, science, and culture.
Scavenger Hunts –  Make your sightseeing more interactive by creating scavenger hunts. It will enhance your child's observation skills, critical thinking, and can be tailored to include learning objectives relevant to your travel location.
Audiobooks and Podcasts – Long drives or flights are perfect for audiobooks and educational podcasts. They can entertain your child while also improving their listening comprehension skills.
Travel Diary – Encourage your child to write about their daily experiences, describing the places they've seen and the people they've met. This activity enhances their expressive language and memory skills.
Cooking Local Cuisine –  Trying local recipes is a fun way to learn about regional cultures and cuisines. It also offers a practical way to apply math through measurements and fractions.
Stargazing and Navigation – Stargazing is not only fun but also educational. Teach them about constellations and use a compass for basic navigation skills. This can spur interest in astronomy and geography.
Photography Project – Equip your child with a camera to capture moments from their perspective. Discuss composition, light, and subjects, helping them to develop a creative eye.
Interactive Travel Games – Games like "license plate math" where children add, subtract, multiply, or divide numbers from license plates, or "I Spy" involving geographical or historical features, can keep kids engaged while reinforcing learning.
Reading Maps and Brochures –  Have your children assist in planning your itinerary using brochures and maps. This can help improve their map-reading skills and understanding of geography.
Summer vacations don't have to result in a learning gap. By incorporating educational activities into your travel plans, you can keep your child's mind active and curious, ensuring a seamless transition into the new school year when summer ends. Remember, these experiences not only provide educational value but also create wonderful family memories that your children will treasure for a lifetime. Safe travels and happy learning!
Share this article
Tell us about your experiences