Blog home
› Fall Pumpkin Recipe EXTRAvaganza!
Fall Pumpkin Recipe EXTRAvaganza!
posted by Karen Quinn, The Testing Mom - September 24th, 2019
Building skills with your children in an everyday setting is as easy as finding a recipe and cooking together.  But we want to fuel their minds and bodies with good things, as well, so today I wanted to share some HEALTHY, pumpkin recipes to make together–it's a FALL pumpkin recipe extravaganza!!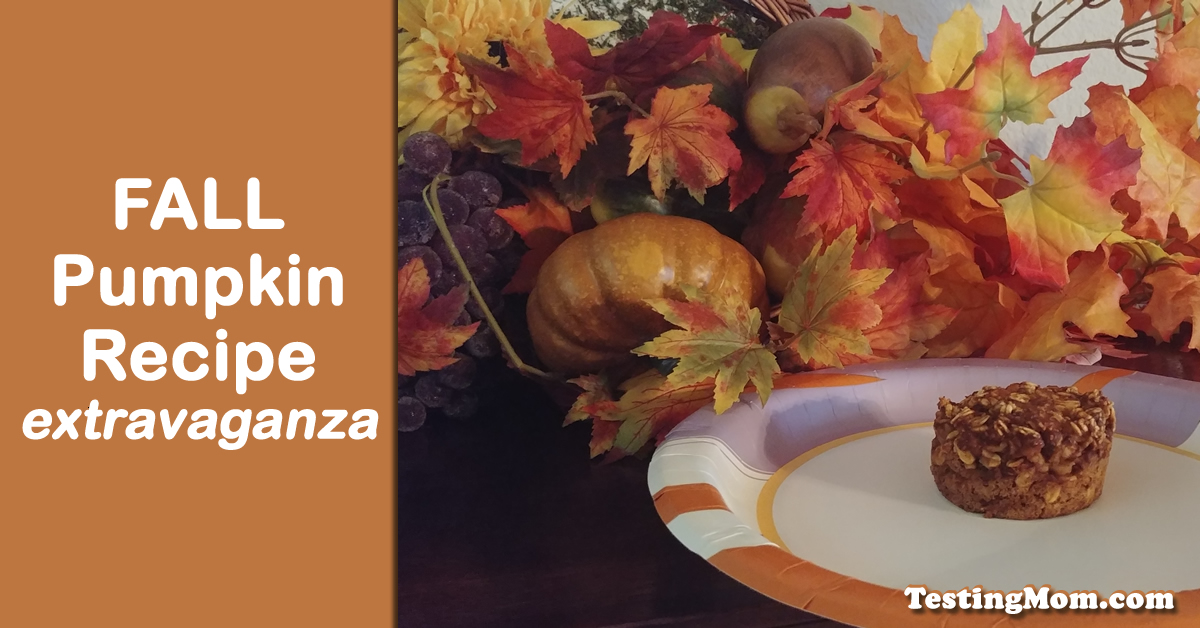 My friend, Meredith, shared this recipe with me.  It is SO good!  And it will be a great after-school snack that you can make ahead on the weekend!
Pumpkin Pie Oatmeal Cups
Makes 12 Muffins
Ingredients:
2 tablespoons chia seeds
6 tablespoons water
1 can pumpkin purée
2 cups rolled oats
1/2 cup pure maple syrup
1/4 teaspoon salt
1 teaspoon ground cinnamon
1/2 teaspoon ground ginger
1/4 teaspoon ground cloves
1/2 teaspoon baking soda
2 teaspoons apple cider vinegar
Directions:
Preheat the oven to 350 degrees and line a muffin tin with baking cups. In a small bowl, stir together the chia seeds with the water. Let them sit for five minutes. In a large mixing bowl add pumpkin puree, oats, maple syrup, cinnamon, ginger, cloves and baking soda. Mix together.  Add chia seeds.  Then add vinegar last.
Use 1/3 cup to scoop into muffin cups.  Bake 25 minutes, until the centers are firm to a gentle touch.  Allow them to cool a few minutes before serving.  Store leftovers in an airtight container in the refrigerator.
This recipe was from my grandmother. It is hearty enough to have for breakfast and sweet enough to have for dessert! We have even made this in two small loaf pans,
Pumpkin Blueberry Streusal Muffins
Ingredients
2 1/2 cups flour plus 2 tablespoons, separated
2 cups sugar plus 1/4 cup, separated
1 tablespoon pumpkin pie spice
1 teaspoon baking soda
1/2 teaspoon salt
1 1/4 cups canned pumpkin
2 large eggs
1/4 cup vegetable oil
1 cups fresh or frozen blueberries
1 teaspoon cinnamon
2 tablespoons butter
Directions:
Streusel topping: In a small bowl combine 1/4 cup sugar, 2 tablespoons flour, 1 teaspoon cinnamon. Cut 2 tablespoons butter into the mixture with a pastry blender and blend until crumbly.
Muffins: Combine 2 1/2 cups flour, 2 cups sugar, pumpkin pie spice, baking soda and salt in large bowl. Combine pumpkin, eggs and vegetable oil in medium bowl, stirring well. Stir wet mixture into dry mixture, just until moistened. Gently fold in blueberries. Spoon batter into lightly-greased, 12-count, muffin pan, filling 3/4 full. Sprinkle with streusel topping, evenly.
Bake at 350 degrees for 30 minutes. Serve warm. Store leftovers in an airtight container in the refrigerator.
This recipe is from my friend Elaine, who shared it with me in a study I was taking. I love the idea of serving it in a hulled-out pumpkin.  So creative!
Creamy Pumpkin Soup
Ingredients:
1 medium onion, chopped
2 cans or 29 oz. freshly-made chicken broth
2 cups russet potatoes, peeled and sliced
2 1/2 cups milk
1/2 teaspoon salt
1 cup sour cream
2 tablespoons butter
2 cups cooked or canned pumpkin
1/2 teaspoon ground nutmeg
1/4 teaspoon pepper
1 tablespoon fresh parsley, chopped
3 bacon strips, cooked, drained and crumbled (can substitute turkey bacon)
Directions:
In a large stock pot, sauté onion in melted butter on medium heat until tender. Add the broth, potatoes and pumpkin. Cook on medium high until the potatoes are tender (about 20 minutes). Remove from heat and cool. Purée the whole mixture until smooth.
Cook the mixture in the stock pot on medium low heat and slowly add, milk, nutmeg, salt and pepper until all is heated through. Meanwhile, combine parsley with sour cream in a separate bowl.
Spoon soup into bowls; top each with a dollop of the sour cream mixture and sprinkle with bacon. Makes 6 servings. For a group, can serve this soup from a hollowed out and top cut out pumpkin–very festive!
This recipe is from my kids' preschool teacher, Mrs. Nilsen.  It smells SO good!  And it is a fun way to be creative and festive in the fall and winter months. It can also be adjusted, as shown below, and you can make several colors and give as gifts!
Pumpkin Play Dough — (to play with and not eat 🙂 )
Ingredients:
2 cups flour
1 cup salt
2 cups water
3 teaspoons pumpkin pie spice
3 drops of orange food coloring (remember red and yellow make orange!)
2 teaspoons vegetable oil
4 teaspoons cream of tarter
Directions:
Combine ingredients in a large pot. Cook on low heat until a dough forms and pulls away from the sides of the pot. Remove the dough and cool. This will make an orange-y brown play dough.
To make different colors, do not add the pumpkin spice or orange food coloring–divide the play dough into about 8 balls and then add 8-10 drops of the colors you want for each. Store in airtight containers or zip lock bags.
Skill Building
Now that you have these great recipes to eat and to play with, what skills are you building?
Isn't that awesome? These skills are being built into your children, as you work together!  We have Flash Cards that you can also work with to reinforce and build AND have fun going through together.  Check them out here!




Share this article
Tell us about your experiences