Blog home
› Holiday Gifts for All Your Child's Teachers
Holiday Gifts for All Your Child's Teachers
posted by Karen Quinn, The Testing Mom - December 4th, 2019
Every year, I'm thinking through good gift ideas for all the people pouring into my child's life–something thoughtful to say thank you and bring a sprig of joy into each educator's life. So today I wanted to compile a list of good ideas and crafts that your child can help you put together!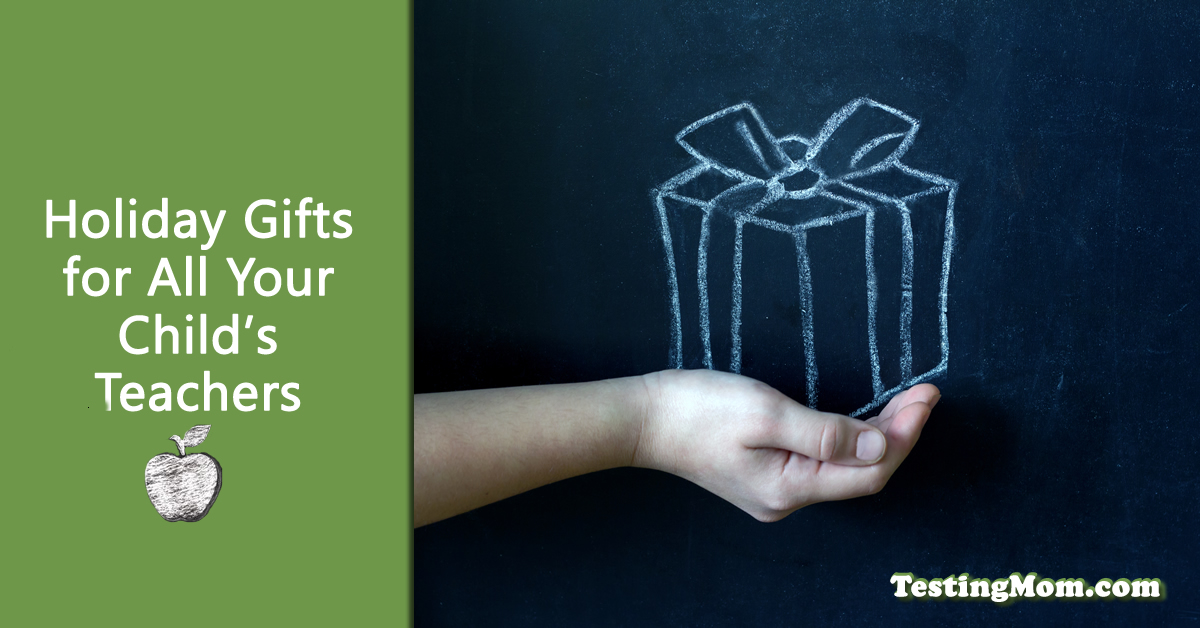 100 Free Gifted Practice Questions
Holiday Gift List for ALL Your Child's Educators
Gift Cards – Gift cards are probably the most welcome of gifts, since the person can buy what they want or need. But I find them quite impersonal.  Not only that, they can easily be lost, misplaced or forgotten.  However, if you buy a gift card, amp it up by adding a personal touch and create something special to go with it–a note written in your child's hand, a hand-drawn picture or some homemade goodies!
Make/ Give something Edible and Clever – There are hosts of ideas for this, so here are just a few!  Pinterest is loaded with ideas, as well.
Snowman Donuts – Difficulty: easy!  Buy some powdered donuts and decorate with ribbons, paint pens and construction paper.  Add a little notecard to the back with a recipe card for Snow Cocoa (recipe below) hand-written and signed by your child.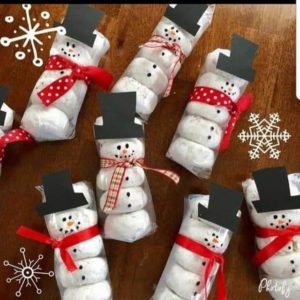 Mason Jar Goodies – Difficulty: easy! Layer gourmet cocoa mix (recipe below) with toppings at the top and add a ribbon with a special tag of instructions for making a scrumptious cup of cocoa from the mix. This recipe and picture is from Start Simply Cooking.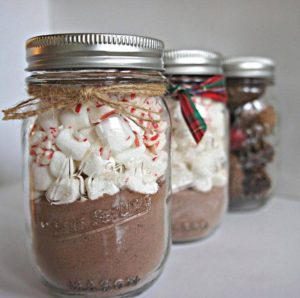 Make/ Give something Useful
Hot Corn Bags – Difficulty: hard, but worth it! 
We make and give a form of this every year.  It is handy to heat in the microwave to stay warm in the winter or keep in the freezer in the summer.  I often hear great feedback for these!  They are excellent for sore muscles, as well.
Ebook or Hand-made Printed Book – Difficulty: medium
Have your young child sit down and tell you a story or have your older child write or type it out.  A grouping of stories or poems are always great gifts, even better with illustrations.  Another idea is to have them create a recipe book of your family's favorite recipes (this gift is handy for the whole extended family, as well!). Once they have written it out.  Put it in a word document and save it.  Then print it to a pdf document.  In this format, you can upload it to Kindle to create your very own ebook!  Or just print it out at home.  Either way, this is a super special gift!
Give a Gift "in Honor Of" – Difficulty: easy!
This is probably one of our favorite ideas.  There are many charities that help families in need, so you could sponsor a child in your teacher's honor or give a one-time gift to provide for a family. Give a fruit tree or a dairy animal in your teacher's honor, as well.  It's such a rich idea to overflow help to others. Then make or buy a card for your favorite teacher and let the teacher know all about it!
100 Free Gifted Practice Questions
Recipes to Add
Snow Cocoa
6 cups milk
2 cups heavy cream or half and half
1 cup sugar
1 teaspoon vanilla extract
4 ounce bar Ghiradelli white chocolate
On medium heat in a large stock pan, steam milk, cream, sugar and vanilla extract (do not bring to a boil). Cut bar into little bits and add to the steaming mixture, stirring constantly for 5 minutes. Take off heat and serve with marshmallows in your favorite winter cup! Makes 6 cups.
Gourmet Cocoa Mix
4 cups instant nonfat dry milk
2 cups sifted powdered sugar
2 cups powdered French vanilla nondairy coffee creamer
2 cups powdered chocolate milk mix (the store brand works just fine)
1 5-ounce package cook-and-serve (not instant) chocolate pudding mix
¼ cup unsweetened cocoa
Combine all ingredients and stir well.
Alternate toppings at the top of the mix:
2 cups miniature marshmallows and/or miniature chocolate chips
Crushed candy canes.
Put on Tag: To serve, place ¼ cup mix in mug or cup. Add ¾ cup boiling water or hot milk and stir well.
For more variations and add-ons for this recipe, be sure and check out Start Simply Cooking's post here.
As for what not to give, I have heard through the teacher-grapevine that they do not need more cups or mugs. Ha! Well, whatever you give, always write a personal note of thanks from your child.  It is simply the icing on top!  Happy gift giving!
Share this article
Tell us about your experiences