Blog home
› Make your Recycling Bin a Creative Learning Lab
Make your Recycling Bin a Creative Learning Lab
posted by Karen Quinn, The Testing Mom - May 24th, 2018
We are welcoming guest author, Kristin Van de Water, a mom from NYC who is always looking for ways to engage her child in learning! Today she is sharing about turning your recycling bin into creative learning!
Get Creative!
Kids make sense of their world through creative play. Provide the right tools, time, and space, and you'll be amazed at what connections they make, games they concoct and even scientific principles they witness in action.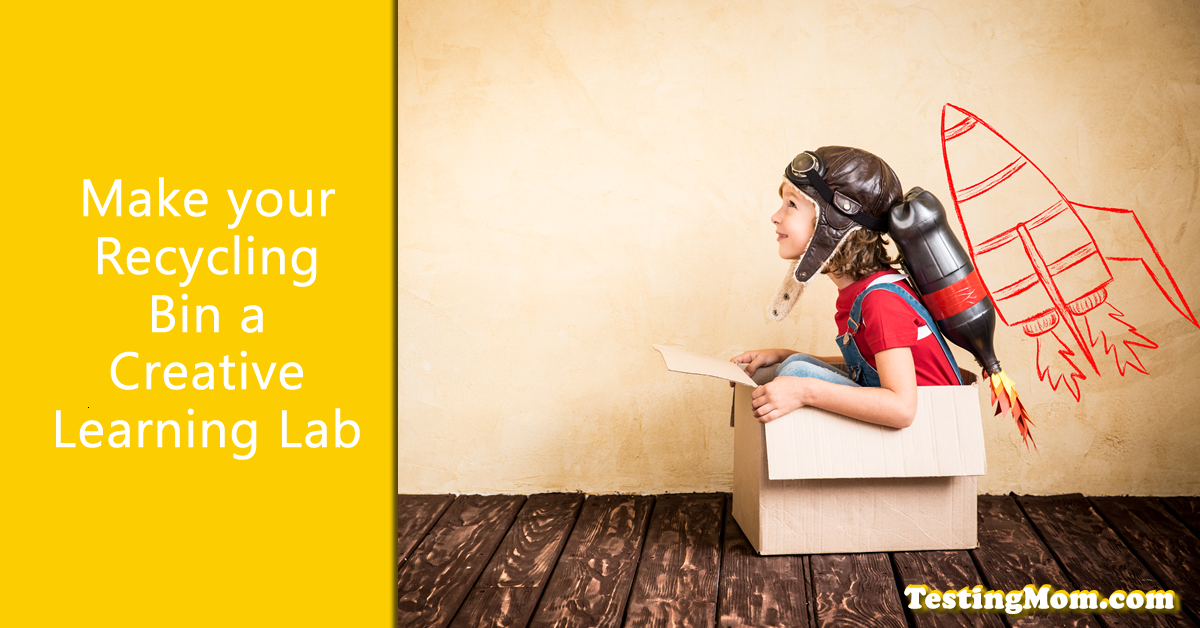 When our old vacuum refused to suck up one more trampled Cheerio, dried pea, or Play-Doh rock, we found a replacement online and eagerly awaited its delivery. We all know how much kids love boxes (Fort! Space ship! Tea party table! Reading nook!), so you can imagine their groans of despair when I accidentally recycled the new vacuum box. Luckily, I did hold on to three maze-like cardboard packaging inserts that I knew in an instant were creativity gold.
Creative Play
When my 5-year-old twins invited a classmate over the next day, they immediately set to work, calling themselves "maker-bakers." No, they weren't actually baking anything—they just get a kick out of rhymes. They combed through our apartment to gather materials. While I spent a few minutes cleaning the kitchen and sorting school papers, they had transformed the vacuum packaging and some gift boxes into a "ladybug house," complete with swimming pool, front steps, and beds assigned to each of the paper ladybugs they created.
A few days ago, they had twisted pipe cleaners into harnesses for their Paw Patrol pups and My Little Ponies and were sending them down a zip line from the window sill. Next thing I knew, they discovered that a jump rope makes a great zip line down from the top bunk bed.
Reuse-Recycle-Reduce-Repurpose
Yesterday, an empty wrapping paper roll turned into a delivery tube. I had draped a blanket over our crib to air dry. Of course, when the kids discovered that setup, it became an instant fort. My daughters camped out inside while my son sent them "special deliveries" of toys that could slide down the tube through the crib slats. I could practically hear gears turning in their heads as they experimented with lifting and lowering their ends of the tube to adjust the toys' speed and direction.
If you want to encourage these kinds of creative learning moments but don't have tons of space, just keep whatever fits in a designated art box and let your selection vary over time. Need more materials? Raid the recycling bin. Your neighbors may have tossed a shoe box that's waiting to become a doll house, robot, or cash register in your kids' creativity lab.
If you unearth these items during spring cleaning, give them a second life before you kick them to the curb.
Paper
Cardboard tubes from paper towels and wrapping paper
Egg cartons, cereal boxes, oatmeal canisters
Kleenex boxes
Cardboard matting from an old picture frame
Wrapping paper, tissue paper, streamers, gift bags, gift boxes
Sandpaper
Paper plates, cups
Magazines, newspapers
Index cards, Post-its
Metal
Paper clips, binder clips
Aluminum foil
Pipe cleaners
Twist ties
Plastic
Buttons from an old shirt
Plastic produce containers
Cellophane
Sequins, rhinestones, beads
Wood
Dowels
Popsicle sticks
Chop sticks
Other
Rubber bands
Sponges
String, yarn, twine, ribbon
Wine bottle corks
Pom-poms
Dried beans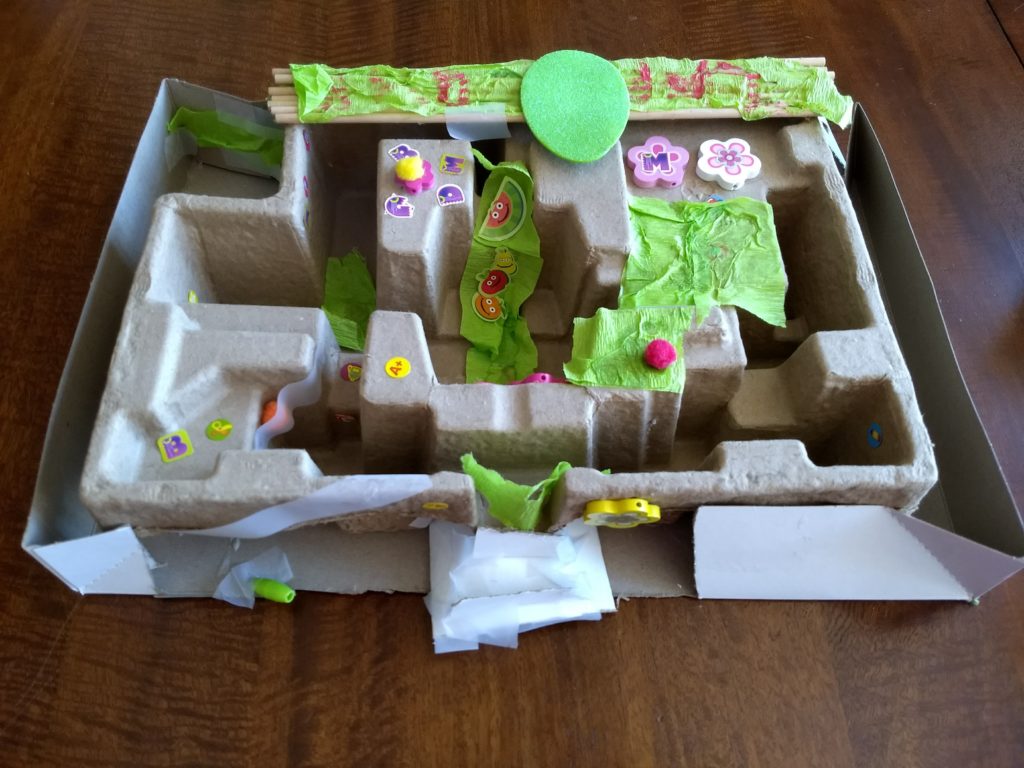 Next, step the learning up a notch by using your kids' creations as launching points for discussions.
Make observations about shape, size, color, function, transparency, flexibility, and strength.
Make predictions. ("Will this tape hold? What about if you rotated it 90 degrees?" "Which paper airplane will fly farther? What would happen if we added some weight with a paperclip on its nose?")
Make connections to books you've read. ("Your boat reminds me of Go Dog Go—the part with, 'Three dogs at a party on a boat at night.' Except that boat had a checkers board. Let's make one!")
And off they go on their next creative tangent. Little connection bridges are forming in their brains. Now step back and give them space to stretch those "maker-baker" wings.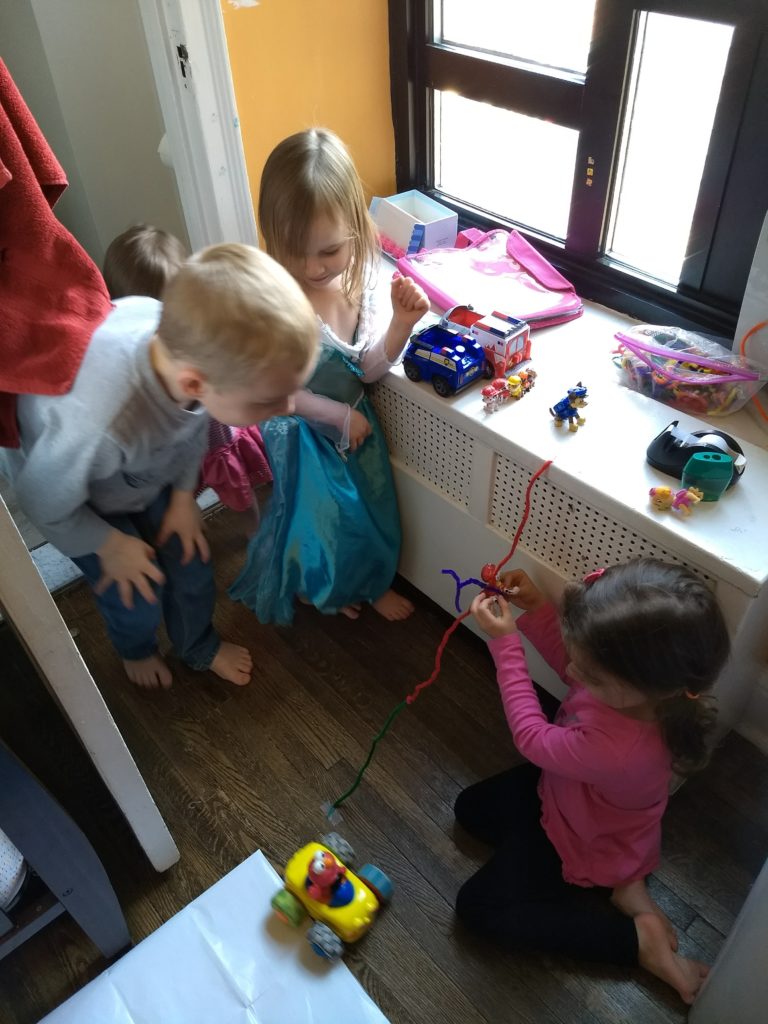 Kristin Van de Water is a mother of twins in PS 198's gifted and talented program in New York City. Raising four kids in a two-bedroom apartment, Kristin is always on the lookout for life hacks to save time, space, money, and her sanity. Visit her blog at Carnegie Hill Mom.
Share this article
Tell us about your experiences
One Response