Blog home
› Which Preschool is Right: Montessori
Which Preschool is Right: Montessori
posted by Karen Quinn, The Testing Mom - January 28th, 2016
Yesterday I asked the question which preschool is right for your child.  Let's begin with Montessori schools.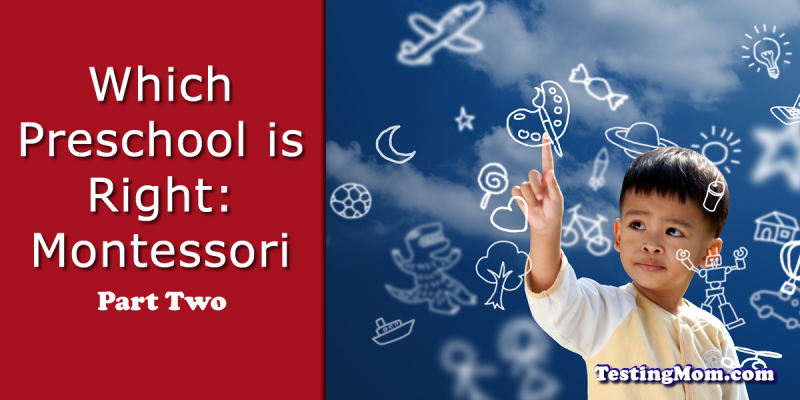 Personally, I love Montessori schools and encourage you to tour one and see for yourself. 
Not only do kids learn a lot, but they are taught not to start a new project until they put the materials they were working on away.  My daughter was always very messy, and I have to wonder if she wouldn't have been had I sent her to a Montessori school. 
History of Montessori Schools
Maria Montessori started Montessori schools in early 20th Century as a way to train special needs children.  The materials she created were so effective that they were later used with normally intelligent kids. 
What Sets Montessori Schools Apart?
In a Montessori classroom, the main interaction is between the child and the materials, not the teacher and the materials.  At first, the teacher demonstrates to the children the proper use of each set of materials.  Then, the child can take the materials out, place them on a mat and use them as the teacher taught her.  When she is finished, she puts it away before starting another project.  The emphasis is on self-directed learning. 
The Building Blocks of the Classroom
The materials used in a Montessori classroom are built around 5 areas.  1) Practical life skills (folding shirts, tying shoelaces), 2) Sensory (handling geometric shapes, putting blocks into the right holes), 3) language, 4) mathematical (handling sandpaper letters and numbers, counting beads on long chains) and 5) cultural (a broad exposure to many areas of science).  As you can imagine, children learn a great deal with this curriculum – numbers, letters, adding, subtracting, practical life skills, information and more.
Montessori Classroom
Classes are of mixed ages, usually 3 – 6, with the older children helping the younger ones.  Kids are encouraged to work at their own pace and build their own foundation of knowledge.  When they emerge from Montessori, they are organized, respectful of other children's work, and able to work independently. 
As you can see, Montessori schools have much to offer your child!  But there are more approaches.  Join us tomorrow for progressive schools.
Preschool Series:
Which Preschool is Right for Your Child?
Share this article
Tell us about your experiences
3 Responses