Blog home
› 2018 Gifted Thinking Success File: Motivation and Goal Setting
2018 Gifted Thinking Success File: Motivation and Goal Setting
posted by Karen Quinn, The Testing Mom - February 14th, 2018
Masterful and gifted-thinking students stay motivated and set goals. Both of these require intention and planning, so today let's talk about some great strategies for implementing motivation and goal setting into your child's repertoire.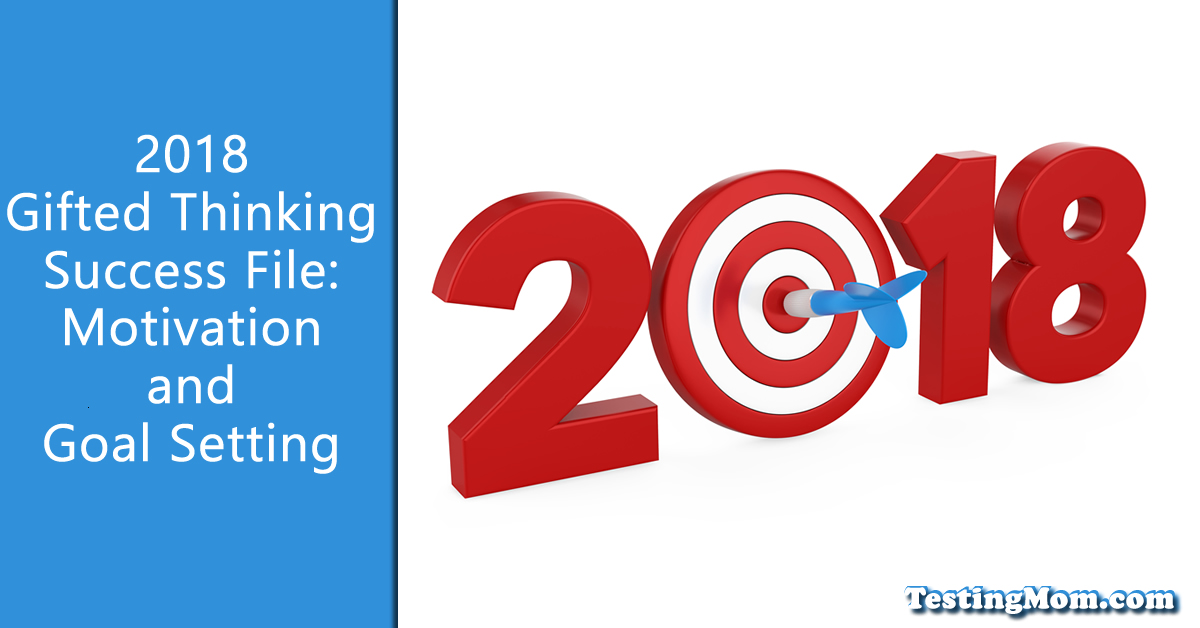 Visualize Success
Motivation
You are your own best motivator. Your motivation must come from within yourself. Others may try to encourage you, but you are the only one who can attain what you desire. You must convince yourself – you can!
Success comes in cans!
Throughout your school years you will have to make many choices; view these choices as opportunities. Don't allow yourself to be burden with problems; they are really only challenges. Train yourself from the start to put your time and energy into finding solutions to your challenges, not in complaining. You must adjust your attitude and retrain your thought process.
Start with surrounding yourself with positive people. They will encourage and nurture you. Stay away from negative people because they will discourage you and sabotage your dreams and goals.
You need to hold yourself accountable. Write a letter of intent to yourself, date it, and sign it. Put this letter some place where you will see it everyday. Go to a friend or fellow student and make a commitment to each other. It helps to be accountable to someone else.
If you develop your dreams into goals, and your goals into realities, then your realities will become your successes!
Goal Setting
Goals provide direction in your life and nurture your motivation
Goals are like road maps; they get you from one point to another. Goals provide the direction you need to reach your destination, the motivation to sustain you on your trip, and a way to measure your progress. The best way to get results is to plan for the future, but live one day at a time.
Think about the future. How do you define success? What makes you happy? What drives you? What makes you get out of bed in the morning? Does success mean family, money, security, prestige, to help others, improve the environment, solve problems, a career, a degree? Whatever you decide, the key is to strengthen your will to succeed. To succeed, strengthen your will – to strengthen your will, succeed. This sounds circular, and it is – it is a positive feedback loop.
To get this positive feedback loop started, develop a long-term plan. Where do you want to be 3-5 years from now? What do you want to be doing? Where do you want to live? What kind of vacations do you want to take? What is your house going to look like? What kind of car will you be driving? What color will the car be? Get very specific with your dreams and your plans. If your dreams are specific, your goals will be specific. Never ask yourself the questions – "What if", or "What would happen if". Make the questions a positive affirmation of what you will do! Prioritize your goals – what is the most important goal for you and what is the first thing you need to do to start towards that goal? Then plan backwards in time and outline the major steps it will take for you to arrive at that future destination.
Once you have the big picture, break your outline into individual, short-term goals. Short -term goals should range from daily goals to one-year goals, midterm goals should range from 2-3 years, and long term goals are up to 5 years. Make your list very specific and realistic. You want to be successful in reaching your goals, but at the same time, these goals should challenge you. At the end of each day reward yourself and strengthen your resolve for tomorrow.
Some Suggested Goals:
Be a Life Long Learner
We live in exciting and interesting times. We live at the crossroads of revolutions in electronic technology, genetic engineering, and international economics. The only certainty in life is change, opportunity for some, and future shock for others. Education is the door to opportunity. Your most valuable asset and skill in life as well as in the market place is your ability to learn and to apply this knowledge.
Clarify Educational Plans
If you have declared a major, great! If not, do not worry – it is okay. Many students are unsure of their major until they are about halfway through college. If you don't know what you want to major in, then research various careers, talk to counselors, visit businesses, and/or interview people already working in the fields you are interested in.
Become an Efficient, Successful Student
No matter what your goals are, work at maximum efficiency. Be a student who works smarter as well as harder.
No one can teach you how to think, you must motivate yourself to learn how to learn!
2018 Gifted Thinking Success File Series:
Student Choices that Make the Grade
2018 Gifted Thinking Success File: Memory and Learning Styles
Join us next time in our Gifted Thinking Success File, where we'll discuss Memory and Learning Styles!
Share this article
Tell us about your experiences