Blog home
› Neelesh's Journey to GT
Neelesh's Journey to GT
posted by Karen Quinn, The Testing Mom - December 28th, 2017
Today we are welcoming guest author, Divya Chevuri, a GT parent with a passion for cooking and sharing the flavors of India, who is sharing about her son's gifted and talented journey.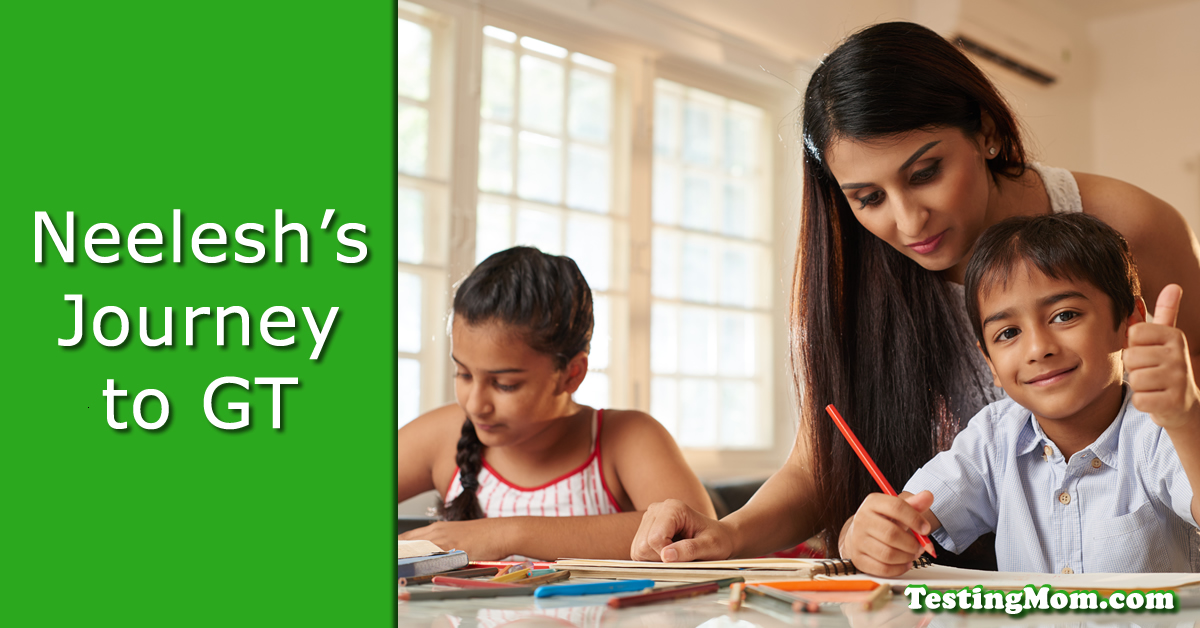 My son Neelesh was completing second grade at Victor Elementary School in Torrance, California. During the month of October, I received a notice through the school e-blast. The email notified us that we should begin submitting entry applications for the GATE Test.
What is GATE?
When my eight year old son and I were discussing the GATE test, he said something rather funny. My son believed that the test might be taken at some GATE. This, of course, made me laugh hard! We soon started discussing the process with teachers, the principal, and other parents, whose children had already taken the exam or had begun test prep.
As a Mom, I started searching the internet and came across a site known as Testing Mom. I proceeded to subscribe & got a daily practice question. It was so exciting to observe my son's newfound confidence in his testing abilities. Neelesh has always enjoyed math and science. English on the other hand is more challenging for him. His difficulty in this subject area can be attributed to the fact that we speak a different language at home. When I mentioned how we speak a different language other than English to Testingmom, the help desk team offered to share specific practice links.
During his second grade year, my son began practicing NNAT2, and scored successfully on the test. I became involved with the school PTA and volunteered in sharing the information of the Testing Mom website .
Once my son became recognized as a GATE student, he began to enjoy the workshops and extra classes conducted after school. Additionally, my son always loves to build something new with Robot, Legos, and Mindstorms. He always comes up with new ideas when it comes to building with Legos. Printer is one of my favorite projects he made, as he enjoyed printing all of our names using the code created by him.
Move to Texas
Last December, our family moved to Little Elm, Texas. Because of the district changes, we were a bit scared of the change in studies. Many were discussing the high FISD standards.
Being new to the school district, I reached out again to Karen Quinn. She sent me an email, and we proceeded to set up a conference call! Karen told us about the live events on Facebook that would allow my son to practice the Iowa test.
Additionally, practice papers helped us to to better understand what the format of the test would be. My son produced a good math score, but still needed to score higher in English. He tried his best and took his CogAT test. Now my son is attending the QUEST program at school.
Originally, I was worried about how our move to another state would impact my son's academics. . He always will say to me, "Mom, don't worry, I will score well."
As a Mom, I always encouraged him by giving enough time for test preparation, by encouraging him to practice patterning questions, and the verbal and non-verbal questions in the form of quizzes.
Finally, through the Testing Mom and Frisco Gate Association(FGA), Neelesh attended online and center workshops. There my son met with
Gate Testing seminar professors. All my worries instantly vanished!
Finally, all of our family enjoyed following the Testing Mom website. Now, I am working with my first grade daughter. Her big brother is helping her to understand the patterning work, as well as the vocabulary. I would like to thank Testing mom for giving me and my son the strength to succeed!
All the best!!
Divya Chevuri grew up in Vijayawada, Krishna District, Andhra Pradesh from India. After making the move to the USA with her family, she began sharing her passion for cooking on her blog Divya's Cooking Journey: Flavours of India.
Share this article
Tell us about your experiences