Blog home
› NYC Parents Seminar Night 3
NYC Parents Seminar Night 3
posted by Karen Quinn, The Testing Mom - October 5th, 2012
During our NYC Parents Seminar night 3  we met again with members of our Testing Mom Parent Network at Hartley House in NYC. This evening session covered both gifted and talented testing and private school admissions testing, including information from both of our previous seminars but diving much further into the actual tests and concepts covered on the tests. Featured on this panel were Karen Quinn, the Testing Mom and best-selling author of Testing for Kindergarten and The Ivy Chronicles, Michael McCurdy, NYC Gifted and Talented parent expert, and Dana Kaplan, Gifted and Talented kindergarten teacher at PS 33 Chelsea Prep in Manhattan.
There are so many tests that your child can take now that sometimes it sounds like a game of Scrabble, doesn't it? In this panel we sorted them out, including OLSAT®,  BSRA®, City-wide, District-wide, ERB, WPPSI™-III or IV, WISC™-IV, NNAT-2®, Naglieri®, and G&T programs. It's especially important to know the differences this year because NYC is changing one of the tests it offers in addition to the OLSAT®, from the BSRA® to most likely the Naglieri Non-verbal Abilities Test® (NNAT-2®).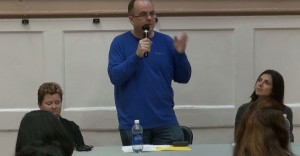 Because most of our attendees are looking at testing for kindergarten this year, we spent the majority of the evening discussing the testing for that level–everything from learning about the tests to the concepts that children will be tested on to figuring out which school and program is right for your family as a whole. The concepts we focused on during this session were those featured on two very popular gifted and talented tests, the Otis-Lennon School Abilities Test® (OLSAT®) and the Naglieri Non-verbal Assessment Test® (NNAT-2®).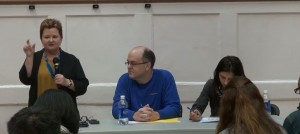 One of our favorite discussion topics at these seminars is how to prepare your child for not just the concepts on the test but for what could potentially be their first experience taking a test. Most children going into kindergarten haven't been put into that kind of a situation before, and it's so important to teach your child to have enough confidence in him- or herself to choose the right answer and stick with it without reinforcement from the test proctor. We know that's not something that all parents remember when it comes to navigating the testing process, especially at the kindergarten level, and this is just one of the many helpful tips we give to our parents during these seminars.
As always, we reserved about the last half hour of the session for group questions, as well as individual questions for our speakers. We strongly encourage parents to come with questions to these sessions, because if you have a concern about your child's future, the odds are pretty good that other parents have that question, too! In addition, we did a giveaway for many of our Testing Mom materials–we even gave away one of Karen Quinn's prized board game, IQ Fun Park!
Share this article
Tell us about your experiences