Start Now
100 FREE Practice Questions INSTANTLY
April 24th, 2012
OLSAT Test Prep Questions to Start the Day
posted by Karen Quinn, The Testing Mom
Below are some OLSAT sample questions (Otis-Lennon School Abilities Test) to ask your talented tots today.
Today ask your little one this OLSAT practice questions. Let us know how your child does by commenting below.
"Look at the shapes in the boxes across the rows and up and down the columns. Do you see how they are related to each other? Can you find the answer that goes in the empty box so the designs inside the rows and columns follow a pattern?"
Answers at the bottom
OLSAT Test Level A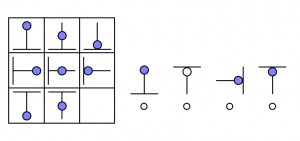 OLSAT Level B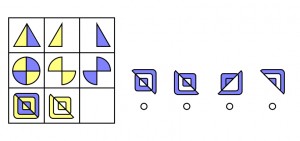 OLSAT Level C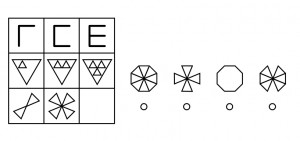 OLSAT Level D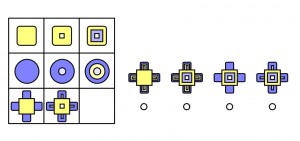 Answers:
4
1
4
2
You still have time to take advantage of our 72 Hour Sale to Get 50% OFF Any Top 1% Membership!
OLSAT – Otis-Lennon School Ability Test®, Eighth Edition is a registered trademark of Pearson. Pearson is not affiliated with TestingMom.com, nor were they involved in the creation, production and do not endorse or sponsor these practice questions. Trademarks referring to specific test providers are used by TestingMom.com for nominative purposes only: such trademarks are solely the property of their respective owners.
Share This
Tell Us Your Experiences
11 Responses
eric says:
I ONLY WANT TO PURCHASE TEST PREP QUESTIONS FOR WISC IV. HOW DO I DO THAT AND WHAT DO YOU RECOMMEND?
Jacki says:
I want to preview and possibly purchase prep test questions for the WISC test for 2nd Grader as a test for a Gifted program. How do I do that? haznk you for your assistance.
shravani_chinta says:
I wanted to purchase for gifted and talented test conduted in NY. My child will go to second grade in this september. How can i purchase those and how?
TestingMom.com says:
Hi – just click on the Testing Mom logo on the top left, that will take you to the page where you can purchase the practice materials for gifted and talented testing for New York.
wajiha johar says:
my son enjoyed doing these questions.i want my son to continue with u
Jon Hood says:
Great! Just go to testingmom.com/packages to see the packages that we offer.
Maria says:
How I can view for more free question?
devichinta_2003 says:
we are in king of prussia pa 19406.
My child entering 3rd grade.How i will prepare gifted student program please help me.month can you have one month membership.
hannie says:
I want to try free 100 questions.Please send me.
TestingMom.com says:
Hi – to get the 100 free practice questions that include some OLSAT sample questions click on the orange "buy now" button at the top of the page. There you will see the 100 free practice questions. Thanks
Hirut says:
I would like to test my daughter with 100 questions please send me the link.
Thank you,