Blog home
› A Perfect Breakfast Menu for Tests (with Free Printable!): Week One
A Perfect Breakfast Menu for Tests (with Free Printable!): Week One
posted by Karen Quinn, The Testing Mom - December 12th, 2016
A Perfect Breakfast Menu for Tests – Week One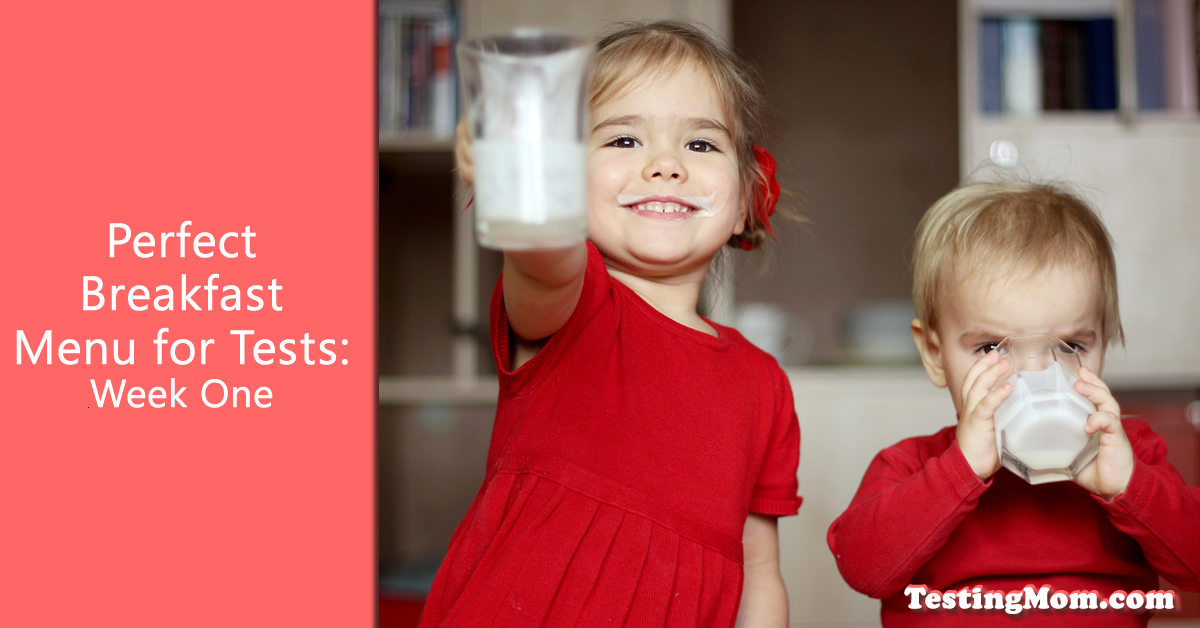 When the test weeks roll around every year, we can make a couple of steps to make the process easier and lighter for our children: providing healthy breakfasts and planning the menu in advance to save time. You can get them out the door on time to school with nutritious and  energy-packed breakfasts. (And I'm saving you time in planning with two weeks of menus, the first is out today–it's a win-win!)
As parents, we set the temperature and environment for our homes.  So when we are running around at break-neck speeds or not being intentional about family time together, we miss opportunities to alleviate the stress that can build on our children's shoulders during test week–and some of those stresses we would never know about, unless we created the margin of time for them to share.  We can talk through the process with them.  We can share the burden they bear and create strong threads of confidence in their hearts.  This, my friends, is the making of a success story.  It begins with the smallest of details.
Feel free to download this breakfast menu printable and bring it out on those busy test weeks coming up in your household.  I will list it out below in a text format–for those of you, who use a different system and just need the input.  Also, I have created a more decorative-style of calendar for you to print for your planner.  The recipes are listed below each day.  I will post week two's menu later this week!
Perfect Breakfast Menu for Tests
*Printable for Perfect Breakfast Menu for Tests: Week One Front Side (in pdf format)
*Printable for Perfect Breakfast Menu for Tests: Week One Back Side (in pdf format)
Monday
Spinach and Kale Smoothie with Flaxseeds
Whole Grain Toast with Butter
Smoothie Recipe:
1 1/2 cups Kale
1 cup Mango and/or pineapple, frozen or fresh
1 Orange (peel removed)
1 1/2 cups Spinach
8 Strawberries, fresh or frozen
1 tbsp Honey
1/3 cup Greek yogurt
1/4 cup Water
2 T. Flaxseeds
Put all in Blender and Mix Well.  Serves 2.
Tuesday
Egg in a basket (whole grain bread)
Orange, cut in slices
Milk
Egg in a Basket Recipe:
Egg
Bread
Butter
Salt
Pepper
Cut a circle in the middle of a piece of bread.
If you don't have a round cookie cutter, the top of a glass will work.
Heat a skillet or griddle sprayed with Pam or Mazola.
Place the bread in the pan.
Put about 1/2 t butter in the hole in the bread.
Heat the butter until very hot.
Crack an egg in the hole.
Use a spatula to move the white around so it gets done.
When the egg is fairly well set, turn the bread and egg over to cook the other side, being careful not to break the yolk.
Toast the holes from the bread for dipping in the yolk.
Salt and pepper as desired.
Serves One.
Wednesday
Lean Bacon and Egg on a Whole Grain Toasted English Muffin
Cranberry Juice
Baked Eggs in Bacon Wraps on a Toasted English Muffin Recipe:
12 slices Bacon (can be Turkey Bacon)
12 Eggs
Salt
Pepper
Preheat oven to 375 degrees
In medium frying pan fry bacon to soft transparent stage.
Drain on paper towels.
Line each slice around the side of each muffin cup. Ends may overlap.
Break egg directly in the center of each muffin cup. 12 cup muffin pan.
Slightly salt and pepper.
Cook 15 to 20 minutes. Cut English muffins in half and toast.
Watch for whites and yolks to begin to set.
Take out with small spatula and place on half of the toasted English Muffin.
Thursday
Whole Grain Pancakes with Berries
Orange Juice
Southern Style Whole Grain Pancakes Recipe:
1 1/2 c. All-purpose Flour
1 1/2 c. Whole Wheat Flour
1 c. Instant Oats
2/3 c. Cornmeal
3 T. Sugar
2 T. Baking Powder
1 t. Salt
6 Eggs, separated
6 T. Canola Oil, plus 1/2 c. separated
3 c. Buttermilk
2 cups assorted Fresh Berries
Maple Syrup
Whip egg whites until stiff with a beater. Set aside. In a separate bowl mix together the flours, oats, cornmeal, sugar, baking powder and salt. In a smaller bowl blend the egg yolks, buttermilk and 6 T. oil, thoroughly.
Blend the buttermilk mixture with the dry ingredients completely. Gently fold in egg whites.
Heat 1/4 c. oil in griddle or large frying pan. (Add extra oil, as it gets dry). Cook the pancakes 1/2 c. at a time. Makes 16 pancakes. Serve with assorted berries your favorite syrup!
Friday
Blueberry Muffins
Turkey Sausage Patty (brown and serve)
Milk
Eleanor's Blueberry Muffins Recipe:
2 c. Flour
1 c. Sugar
1 T. Baking Powder
1/2 t. Salt
1 Egg
1 c. Milk
1/4 c. Canola Oil
1 c. rinsed and dried, de-stemmed Blueberries
The night before, mix together in a batter bowl the flour, sugar, and milk, stir well. Cover and refrigerate overnight.
The next morning, preheat oven to 400 degrees. Spray muffin pans with cooking oil spray (large or small). Then add the egg, baking powder, salt and oil. Stir thoroughly. Gently mix in blueberries, trying not to crush them.
Fill each muffin cup 1/2 full and cook in oven for 20-25 minutes, when golden brown. Makes 18 regular sized muffins or 36 mini muffins. This is my grandmother's recipe. Can add a streusel topping for added sweetness…(3/4 c. flour, 1/2 c. brown sugar, 1/2 c. butter mixed together and sprinkled on top evenly before baking) Yummy!
Please let me know in the comments if you have any questions, regarding any of the recipes listed above or downloading the printable. I will do my best to help you out!  Please feel free to share this list with your friends on Facebook and pin it to your Pinterest boards–we'd be so honored! May this list give you the leg up you needed for those weeks when test-taking seems insurmountable.
I will be posting Week Two's Menu later this week!
Share this article
Tell us about your experiences