Blog home
› Prepare for NYC Gifted and Talented Testing and Admissions Seminars
Prepare for NYC Gifted and Talented Testing and Admissions Seminars
posted by Karen Quinn, The Testing Mom - October 4th, 2013
Prepare for NYC Gifted and Talented Testing and Admissions Seminars October 25 and October 26!

We're hosting 3 live seminars in New York City! Come hear the experts all things G&T – testing experts, G&T teachers and G&T parents! The language you hear around New York City testing sounds like a game of Scrabble – OLSAT®, City-wide, WPPSI®-IV, ERB, Stanford-Binet®, District-wide, NNAT-2®, Naglieri®, G&T programs, the list of acronyms goes on and on! Learn about all the tests given to our talented tots in New York City and how to prepare for theses tests. Now you can hear from the experts all things testing for G&T and private school admissions.
NOTE: All 3 seminars will have the same information presented. No need to attend all 3 seminars.
Friday, October 25, 2013 from 6:30pm to 8:30pm – midtown west –

SOLD OUT – sign-up for Saturday below
Saturday, October 26, 2013 from 1pm to 3pm – midtown at 6th Ave. 34th St. area –

2 seats left

– Learn more and register
Saturday, October 26, 2013 from 3:30pm to 5:30pm – midtown at 6th Ave. 34th St. area –

3 seats left

– Learn more and register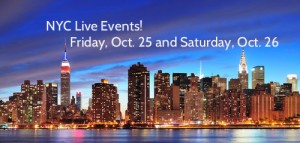 Share this article
Tell us about your experiences