Blog home
› What Should Your Private School-Bound Child Do This Summer?
What Should Your Private School-Bound Child Do This Summer?
posted by Karen Quinn, The Testing Mom - April 23rd, 2019
Today we welcome Emily Glickman, President of Abacus Guide Educational Consulting, one of NYC's longest-practicing educational consultants, as she shares her summer tips for your private school-bound child.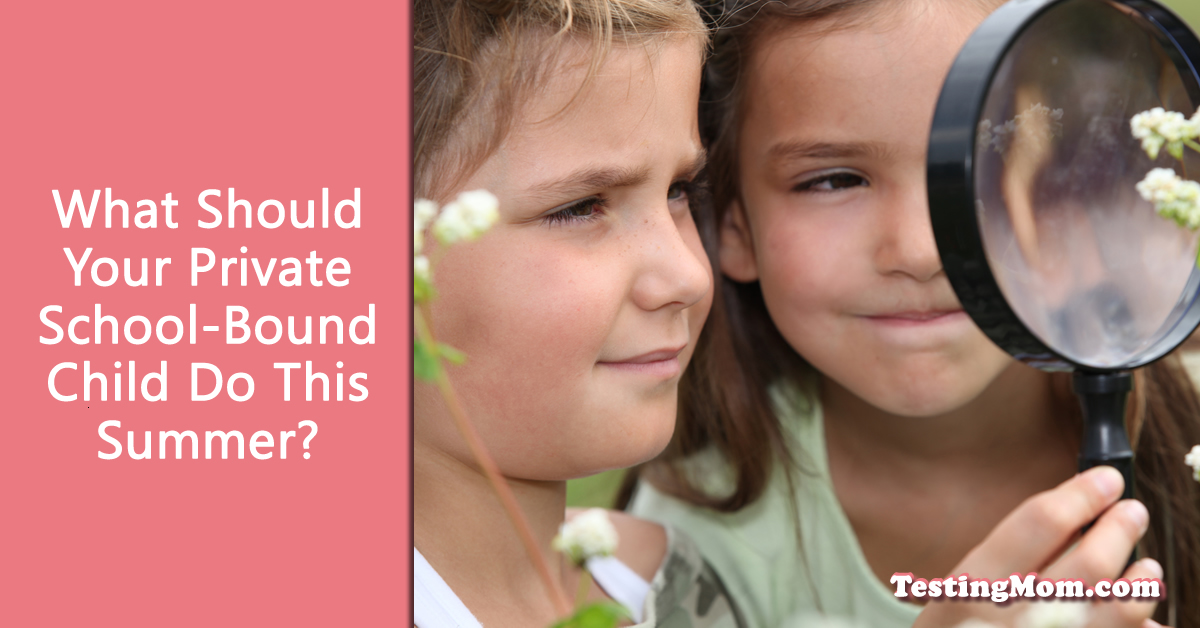 Here's Emily…
I meet with families in NYC and Westchester, NY who are seeking admission for their children to top private schools. Often, my clients ask me what their children should do for the summer.
It's all about balance! After all, children only have a limited number of summers before they grow up. You want them to have fun and get to be a kid, while also developing new skills and interests.
Young Children (preschool through third grade)
Day camp is a great choice. Not only is it fun, it helps kids make great developmental leaps. All those hours spent playing, swimming, doing sports and crafts as well as socializing with new friends and counselors help children grow. At the end of the summer, you may find that your children are more social, more physically fit, and have developed many new interests. If they'll be interviewing at private school in the fall, they will be ready to shine!
From a booklet I read about camps:
In a multitude of studies, the depth and breadth of our social connections has been shown to have an enormous impact upon our emotional well-being, sense of fulfillment, professional accomplishment and even physical health. So how does camp promote this?
Camp's novelty and fun help to focus children on shared experiences. Whether the activities are group games like most sports, or individual projects like many crafts, the experiences are still shared because children directly and indirectly communicate their enjoyment with one another. And since the activities draw children's interest (Camp's fun again acting to "Pull" attention), boys and girls often become less self-conscious and more aware of the joy of being part of a group. Add to this the attentive counselors who mentor children in how to be part of a group, building friendships, and solving interpersonal issues, and camp becomes a unique social learning environment.
Older Children, Tweens and Teens
Do you need to send your older children to cram school? Happily, no. This excellent article Overnight Summer Camps are Better than SAT Prep Classes argues that sleepaway camps build creativity and independence, two crucial characteristics in successful adults. So sleepaway camp is certainly a good option.
If your children have specific extracurricular or academic interests, consider a specialized camp, class, internship, travel or work experience. Summer is an ideal time for young people to deep dive into their interests, learn more about what drives them, and develop expertise. It's the one time of year they are freed from school schedules and have more autonomy with their time. I often advise my clients about specific activities that their children will enjoy and that will also look attractive to schools and colleges.
I can't emphasize enough that summer is the time to reach beyond standardized exam preparation and schoolwork. The more young people learn about what they love, the better position they will be in to pick schools, majors and colleges that fit their needs and position them for joy in their work.
Emily Glickman works with private and corporate clients, including some of New York's best-known investment banks and law firms.  Emily's current clients include investment bankers, hedge fund managers, lawyers, doctors, business executives, professors, and entertainment personalities.
A life-long New Yorker educated at every level at New York City schools, Emily attended elementary school at Packer, high school at Hunter, and college and graduate school at Columbia.   She serves as an alumni interviewer for Columbia College.
In practice for almost twenty years–longer than almost every other consultant–Emily has a vast breadth of admissions knowledge, which she gladly shares with her clients.  Emily provides the warmest, most personal, and most efficient service available.
Share this article
Tell us about your experiences