Blog home
› Teach Your Teen Driver Basic Infant Car Seat Safety Tips
Teach Your Teen Driver Basic Infant Car Seat Safety Tips
posted by Karen Quinn, The Testing Mom - June 18th, 2018
Many parents are thrilled when their teenagers get their driver's license. An extra driver in the household can help run errands, drive siblings to after-school activities and even pick up or drop off the baby at daycare. However, before teen drivers transport an infant, there are some basics of newborn car seat safety they should know.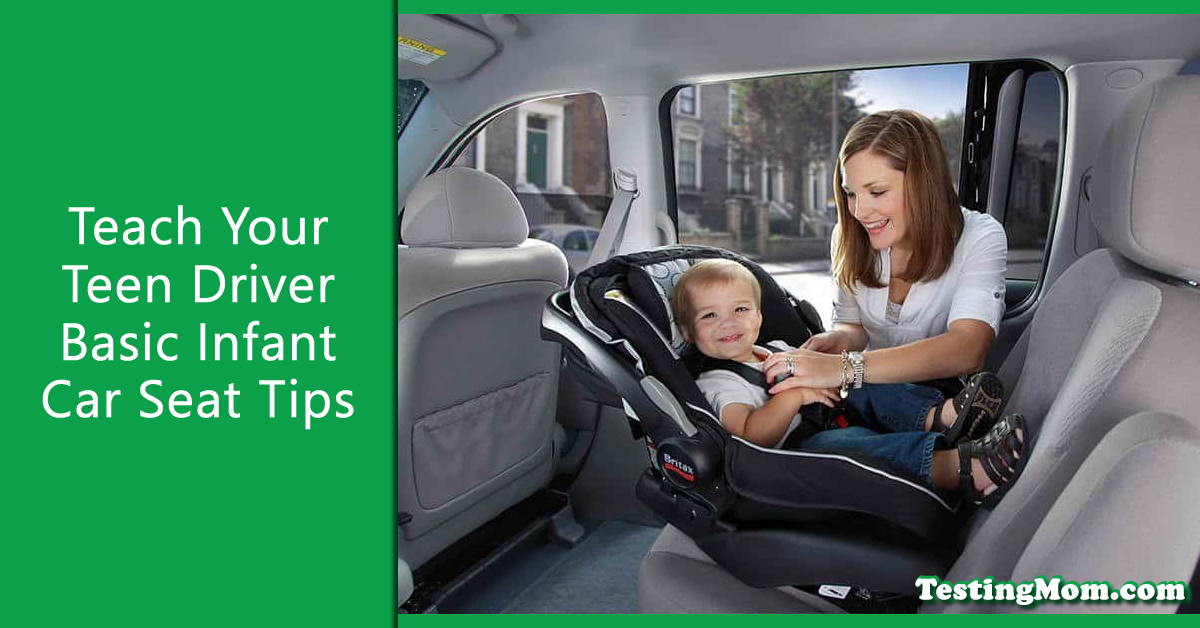 What the Law Says About Teens Driving Infants
Most U.S. states have a three-stage Graduated Driver Licensing (GDL) law that sets requirements for passengers, including infants in car seats. Although GDL regulations differ by state, most allow passengers after the learner stage.
In the intermediate stage, according to the Insurance Institute for Highway Safety (IIHS), a couple of states leave passenger requirements to parental discretion, while a few states prohibit passengers younger than 21, with some offering a limited exception for immediate family members. Other states allow no more than one or two passengers under age 21.
In the unrestricted stage, many states have passenger restrictions until the teen driver reaches a certain age and/or is licensed for a certain length of time.
Car Seat Basics Teens Should Know
What does your teen know about car seats? At the very least, it's good for teenagers to know the different types of car seats and at what age they should be used. This is important information to share with your teen, especially if he or she has younger siblings who are still in safety seats or booster seats.
Start with the basics by explaining the four types of infant car seats:
Rear-facing car seats – These are for infants only and typically feature a five-point harness system. With many styles, the seat can be removed and used as a portable infant carrier. It's important that teens know how to properly position the handle of the carrier when it's in the vehicle. Newborns usually remain in a rear-facing car seat until they reach the seat's weight limit, which is about 35 pounds.
Convertible car seats – These larger seats are the next stage for older babies. They are called convertible because they transition from rear-facing to forward-facing as the child grows. Babies usually remain in this type of safety seat until age two or older, depending on the toddler's height and weight. However, not all convertible car seats are recommended for infants. To learn more, the review on the highest rated infant car seats in the USA 2018 provides more in-depth information.
3-in-1 car seats – Similar to convertible car seats, 3-in-1 safety car seats can be used first as a rear-facing seat, changed to forward-facing and then transition into a booster seat as the child grows in weight and height.
Infant bed car seat – Designed for preterm infants or smaller babies, car beds provide greater vehicle safety for infants weighing between five and 20 pounds and 19 to 26 inches in height.
No matter the type of child car seat, parents should emphasize that car seats are used in the back seat only and should never be placed in the front seat under any circumstances.
How to Use an Infant Car Seat
Whether your teenager will be driving an infant in his or her own car or using your vehicle, the car seat should be already installed and certified by a child passenger safety technician (CPST). These experts offer free infant car seat inspections in local communities. Check with your local police station for information on car seat safety inspections in your area.
When you are installing the infant car seat for the first time, it's helpful that the teen driver watches so he or she becomes familiar with the parts of a car seat and what a properly installed seat should look like. By doing so, if the teen sees something out of sorts later on, he or she will know how to recognize the problem and fix it.
Before a teen driver uses an infant car seat, parents can prepare their son or daughter for the responsibility by referencing these tips:
Before placing the infant in the carrier, always check that the car seat does not wiggle back and forth more than one inch in any direction.
Secure the infant in the car seat using the vehicle's LATCH or seat belt system.
Familiarize your teen with tightening and loosening the straps on the infant car seat. It's not as easy to do as it sounds since the car seat is facing backwards on the vehicle's back seat.
Check that the harness strap is not twisted and rests at or below the baby's shoulders.
Teach your teen the finger test to ensure the chest strap is tight enough: If you can just about slip one finger between the chest strap and the baby's chest, it's the perfect tightness.
Make sure the chest clip is level with the baby's armpit.
Before buckling up the baby, remove any bulky clothing, like a puffy coat, thick sweater, or snowsuit, which prevents the car seat buckles from fitting tightly over the infant's body. Place a warm blanket over the baby and harness instead.
Don't use car seat accessories, like window shades or rear seat mirrors that allow you to see the infant while driving. They can become flying projectiles in the event of an accident.
Loose items, like handbags, books, sports equipment, play toys, or store purchases, also can become flying projectiles in an accident. Either secure them with a cargo net or put them in the trunk.
Car Seat Safety Tips for Teens
Whenever a teenager is driving with a baby in the vehicle, he or she should be well versed in these five car seat safety tips:
1. Before driving off, make sure the car seat is secured.
2. Never take your eyes off the road to check on the baby. If you think something may be wrong with the infant, pull off the road in a spot that is away from traffic, such as a gas station, restaurant, or shopping mall parking lot.
3. Never hand anything over the back seat to the baby, like a toy or bottle. Instead, wait until you can pull over in a safe area to do so.
4. A baby should never be left alone in a car seat, even for just a few seconds.
5. Establish some type of reminder system. It isn't routine for your teenager to drive alone with the baby in the back seat, so he or she may forget to drop off the baby or take the young one out of the car upon arriving at the destination. One recommendation you can offer your teenager is to leave something he or she needs upon arrival, like a cell phone or handbag, on the back seat.
By educating your teen on newborn car seat safety, your young adult will feel confident in safely driving with an infant in the car.
Share this article
Tell us about your experiences