Start Now
100 FREE Practice Questions INSTANTLY
April 22nd, 2017
Testing Mom announces partnership with FasTracKids!
posted by Karen Quinn, The Testing Mom
New partnership expands reach to parents and students online and offline
We're pleased to announce our official partnership with FasTracKids locations in the New York City area! As a result of our growth, we wanted to reach even more families with our partnership with the FasTracKids in New York City.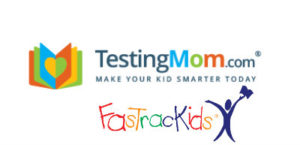 Our test prep content for NYC G&T programs will allow FasTracKids' tutoring and teaching expertise succeed in preparing children to receive a coveted seat in the New York City Gifted and Talented Program. Both companies are committed to make sure every child receives the best education possible. This starts at home with the parents along with the combination of Testing Mom content and FasTracKids' teaching expertise in preparing for the NYC Gifted and Talented test.
FasTracKids locations participating in this partnership:
What both companies say about the partnership:
Franco Verdino, Regional Director for FasTracKids said,
"In searching for ways to improve and evolve to help our G&T students become even more successful in the future, we have formed a partnership with TestingMom.com. Now we can integrate the strengths of our highly qualified and experienced staff, and our teaching techniques and methodologies with the powerful tools, additional training and expertise that Testing Mom has developed. Combined we will offer even greater educational and test prep resources to benefit the children in NYC, eventually expanding nationwide."
Karen Quinn, the Testing Mom, added that
"Partnering with FasTracKids is a perfect match for us. We have been looking for a partner with brick and mortar locations to bring our program to young, inquisitive minds. Therefore, our program fits perfectly with FasTracKids' mission to unleash the natural curiosity of young minds to make them lifelong learners."
Share This
Tell Us Your Experiences