IQ Fun Pack™ Quick Start Guide
Your Immediate Play Guide

Above: Karen shows you how to start playing as soon as you receive your IQ Fun Pack™.
Welcome to IQ Fun Pack™! This video gives you a quick start guide to playing the boardgame.  IQ Fun Pack™ is a test prep system disguised as a game so kids can prepare for testing in a way that feels like play.  It's actually 25 games in 1!  When you open it up, we give you written instructions on how to play each game.  When you access the online interface, we give you video instructions for each of the games.  We encourage you to go through the instructions so your child can get the most out of IQ Fun Pack, but while you're reviewing the instructions, you can actually get your child started by playing the IQ Fun Park game on side 1 of the game board!  So if you just want to dive in and start playing immediately, watch Karen demonstrate how in this video.
Off-line Play and Play For Older Children
Above:  Watch Elizabeth Alexander, founder of www.ReadingInPreschool.com, teach reading, math and Spanish skills using IQ Fun Pack! Side 2 of the game also overs off-line test prep options.
For parents who want to limit their child's online activities – IQ Fun Pack can also be played using ANY printed practice questions (all TestingMom's practice questions are printable), including printable flash cards in the IQ Fun Pack game, bonus cards, Brain Quest cards, math fact flash cards, or even your child's weekly spelling list!  If you have an older child, play IQ Fun Pack using materials/flash cards for anything your child is trying to learn.  Watch how Elizabeth Alexander does it, and then you can play in the same way with your child using your own materials.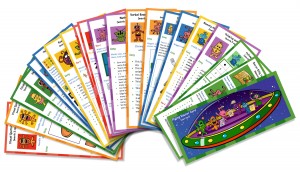 Above: Use the bonus cards in your IQ Fun Pack to play the game completely off-line!  
Above:  Watch Elizabeth teach classification skills with IQ Fun Pack!
Elizabeth Alexander, founder of www.ReadingInPreschool.com, teaches classification skills using IQ Fun Pack. Reading In Preschool is a NYC based early reading program that uses games and fun techniques to teach reading and other skills to kids ages 3-8.