Blog home
› The 3 Most Common Kindergarten Admissions Mistakes Parents Make
The 3 Most Common Kindergarten Admissions Mistakes Parents Make
posted by Karen Quinn, The Testing Mom - February 9th, 2016
Did you know?
You can increase your child's odds of getting into the kindergarten of your choice even if you live in an insanely competitive admissions market like New York City, San Francisco or Los Angeles. And if you're in a less difficult market like Miami, Denver or Houston, what I'm going to reveal will increase your child's likelihood of success all the more.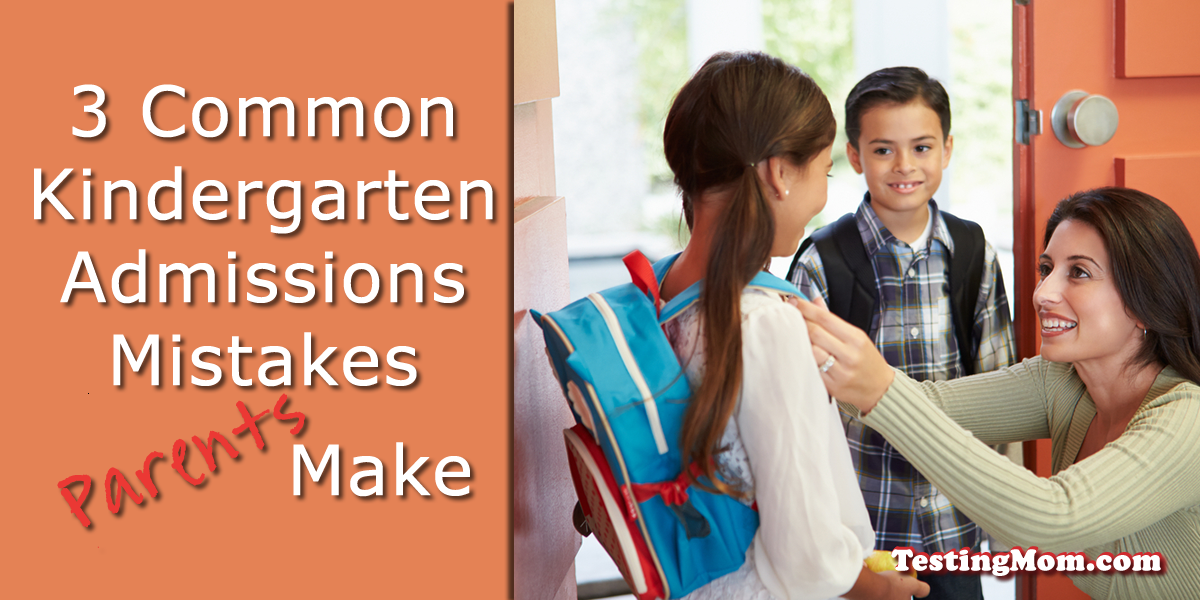 Here are the 3 most common kindergarten admissions mistakes that parents make:
Mistake #1:  Parents only apply to the schools they hear are the "best" in town.
You are going to hear other parents talk about the "best" schools in town, but trust me when I tell you this, there is no "best" school in town.  For you, the best school in town is one that fits your child and family.  To choose the "best" school for you, you'll need to think through the features in a school that are most important to you and then evaluate each program you visit against your own priority list. 
Seriously, what matters to you in a school?  Here are some places to start:
Does it need to be nearby so your child can walk and have neighborhood friends? 
Do you want small or large? 
Do you care if high school students are in the same building as your 5-year-old? 
Would you like your child to wear a uniform?
 Should the school be nurturing? Academically demanding? Competitive?
Do you want a commitment to diversity?  Financial aid?  
What should the other families be like in the school?  Should most moms work or stay at home?  What kind of values do you want them to have?  Remember, these families will have a big influence on the kind of person your child grows up to become.  
The key to finding the best school in town is determining what you want and finding a school that fits your own criteria.
Mistake #2: Parents don't consider all the options available to them.
I can't tell you how many parents I've worked with who are sure they want a co-ed school until they visit their first single-sex school and realize that's the best environment for their child. 
Or, I've seen families limit their applications to public schools for financial reasons when they have a child who might very well qualify for private school scholarship. 
Many families who think they want private school don't consider the excellent gifted and talented programs that their child could possibly get into.
No matter what you think you want going into the process, it's important to research all the options available and to have an open mind to what you might discover.
Mistake #3:  Parents don't get their children ready for testing.
To get into the most competitive private schools and gifted programs, your child will have to shine on an IQ or intelligence test.  How he performs will have a huge impact on whether he's accepted.  Many private schools won't consider children whose scores are below a certain point.  And for many gifted programs, your child will be tested at the kindergarten level.  In some instances, if he doesn't qualify then, he won't be able to reapply until, perhaps, middle school.  So this test at age-4 really counts. 
Admissions directors will tell you not to do anything to prepare your child for the test.  They say, "Just trust that through life and preschool, he's learned everything he needs to know."   Do not listen to them.  Other parents will be preparing their kids.  Sending a child in cold for such an important IQ or intelligence test is putting him at a disadvantage.  At www.TestingMom.com, you will find thousands of practice questions for these tests that you can use with your child.  Just keep your practice fun and playful.  Anything you do to prepare will help your child feel more confident on test day. 
99% of parents could improve their child's odds of getting into a top kindergarten just by avoiding common mistakes that parents-who-aren't-in-the-know make. 
Share this article
Tell us about your experiences