Blog home
› Everyday Activities that Can Help With the ITBS Subtests – Part 1
Everyday Activities that Can Help With the ITBS Subtests – Part 1
posted by Karen Quinn, The Testing Mom - October 13th, 2017
Everyday Activities that Can Help With the ITBS Subtests: Verbal Reasoning, Vocabulary, and Humanities Sections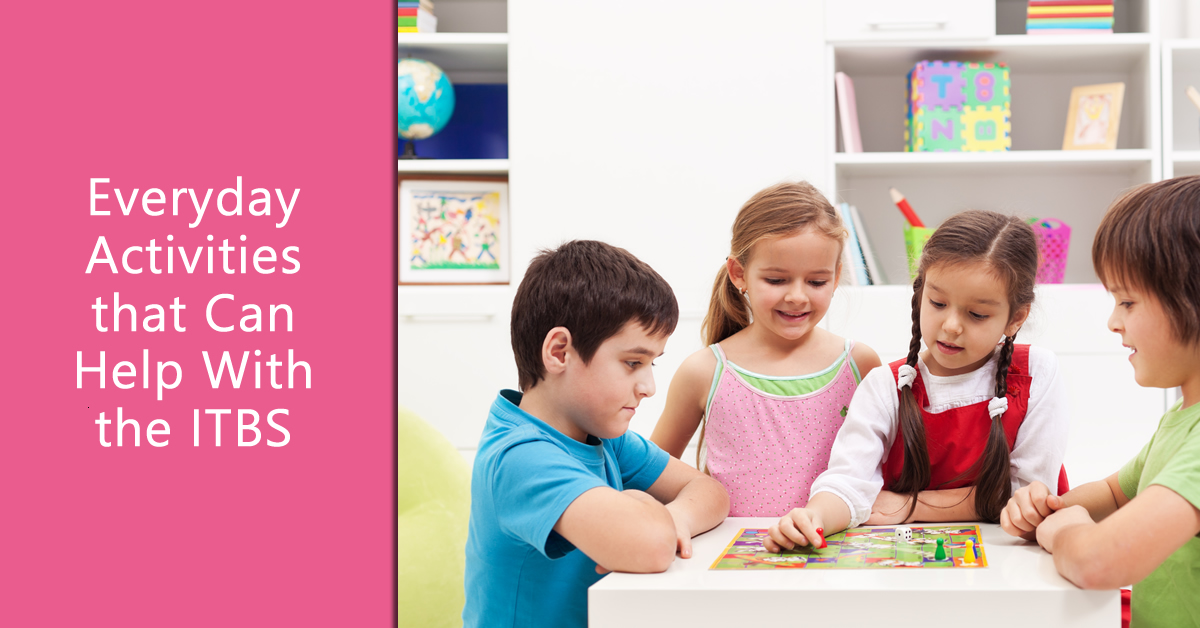 The ITBS (Iowa Test of Basic Skills) is an achievement test administered to students from Kindergarten through 8th grade. Schools offer this test as a means of examining students academic performance. They assess this measure of ability based upon the student's individual grade level. Currently, the test is designed to be offered in levels 5-14. Levels 5-8 are administered to students from Kindergarten through 2nd grade, while levels 9-14 are offered to students from 3rd to 8th grade. Additionally, the ITBS can also be paired with an IQ measure such as the WISC-IV or the CogAT. This pairing helps to determine admission into a gifted and talented program. Today we are going to focus on everyday activities that can help your child to prepare for the verbal reasoning, vocabulary, and humanities content areas of the ITBS.
What do These Content Areas Consist of?
The content areas covered correspond to the students designated grade level. Students who are in Kindergarten Through 3rd grade (levels 5-8) are exposed to:
Vocabulary
Word Analysis
Reading Comprehension
Listening
Language
For children in 3rd through 6th grade (levels 9-14), students exposure to material increases. Although there is some overlap between sections, these students complete:
Vocabulary
Reading/Reading comprehension
Spelling Capitalization, Punctuation, Usage and Expression
Social Studies
Everyday Activities that Help Your Child with the ITBS
Test your vocabulary and play "Blurt"! Ever wonder whether there was a fun, engaging, and high energy board game that could expand your child's vocabulary for the ITBS? Well, you are in luck! "Blurt" is a game that is recommended for children ages seven and older. As the reader gives the definition of the word, players have to blurt out the word that satisfies that definition. This game is unique, because instead of providing the definition of a word, it asks for the word that correctly describes the description. In this game, there is no such thing as taking turns. Instead, players must keep blurting out the word until one of the players chooses the correct answer. Before the players verbalize their answers, they must roll their die. If they choose the correct answer, then that player moves their pawn the number of squares that corresponds to the number that they rolled.  This game requires students to think fast, while engaging the breadth of their vocabulary. An excellent feature of the game is that the reader has the ability to determine the difficulty level of the definition. One side of the card has simpler, more straightforward questions (the star side), while the other side of the card increases in difficulty. An example of an easier definition would state: "A board that hangs out over the deep end of a swimming pool, used for jumping into the water". In this case, the child would "blurt" out "diving board"! There's a very good chance that your child will come away with a solid understanding of some new and important words. More importantly, it allows your child to update or clarify their previous understanding of specific definitions. Get the whole family involved in this fast-paced vocabulary extravaganza!
Start a book club with friends or family! Delve into the world of literature! Developing a strong comprehension of character development, themes, motifs, and the sequencing of events is critical for the reading comprehension section of the ITBS. Fortunately, your child's understanding of what they are reading can be enhanced through a book club! Encourage your child to coordinate a meeting time with a few good friends. It is best if they collectively decide on a book that they want to read before discussing. Once they are finished reading they can set up a time to meet once or even twice a month. Book clubs are not only social, but an amazing opportunity to get into the "nitty gritty" of the book. Opinions can be shared, favorite characters can be discussed, not to mention it's a lot of fun!  This event engages the child's mind, as it requires them to actively recall the plot points. They may even be interested in their friends opinions of the text. Now that it is getting colder, book clubs are a great indoor activity! Your child and his or her friends can bake a nice treat, or make a pot of hot chocolate before beginning their discussion. Let them be creative with the format of the meeting. If you can, sneak in a few questions for them about the story! They may be excited to fill you in on what they read.
For now, you can view more of our ITBS resources below:
ITBS® Test (Iowa Test of Basic Skills)
What is the ITBS Test?
Best Methods for ITBS Test Prep
ITBS Practice Questions
How is the ITBS Test Scored?
Share this article
Tell us about your experiences