Blog home
› Increase Your Child's Test Scores Through Play
Increase Your Child's Test Scores Through Play
posted by Karen Quinn, The Testing Mom - October 5th, 2015
Test Prep Kit disguised as a board game is like making spinach taste like chocolate pudding – kids have no idea it's good for them!
I never set out to invent a board game. After writing Testing For Kindergarten (a book that helped parents prepare their kids for early childhood tests like the OLSAT, CogAT, NNAT, and more) I wanted to follow that with a fun workbook that would prepare little ones for IQ and school readiness testing in a way that felt more like play than work. When I proposed that to my publisher, they declined saying, "let's see how your book does first – then we'll consider publishing the workbook."
Not one to take "no" for an answer, I thought, "Fine, I'll create a test prep kit instead, only it will look and feel like a game, and it'll be so much fun, kids will beg to play it over and over again – they'll have no idea it's good for them! It'll be like making spinach taste like chocolate pudding." Thus was born the original IQ Fun Park – a board game that featured cute characters with a colorful game board and 2,000 questions that got kids ready for 6 early childhood tests – and kindergarten, too! Parents and kids loved it. More important, parents regularly reported that their kids earned top test scores and got into Gifted and Talented programs and competitive private schools after playing.
We sold thousands of these games at $297 each (an investment – but worth it – more on that later). Then, last year, we ran out of inventory. Since then, I have been working with my www.TestingMom.com team to make the game better than ever! We made so many improvements that we had to rename it – now it's "IQ Fun Pack." The new edition contains the original IQ Fun Park game, plus an online interface that can generate an unlimited number of practice questions for even more tests – 10,000+ questions for 15 early childhood tests on our release. Plus, we've added 2 new activity boards featuring 25 games-in-one so your child has more ways than ever to prepare for tests and build school skills such as language, math, reading, thinking, listening, memory, following directions, visual-spatial reasoning and more – all while playing. We even plan to extend the Fun Pack past kindergarten through 2nd grade later this year. Whew!
That's a lot of learning in one game box!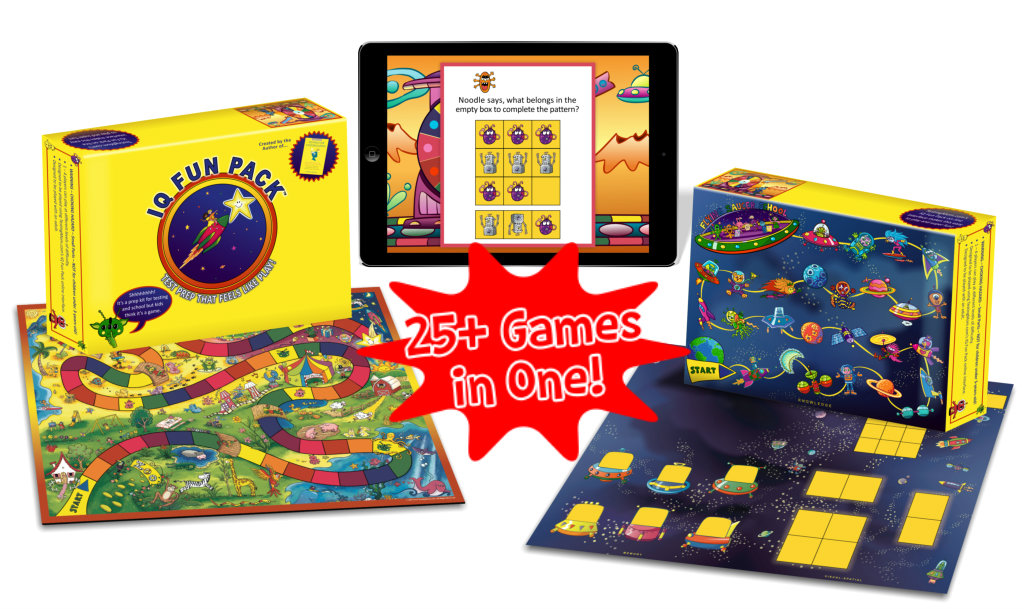 front of box/board (left); online interface (center); back of box/board (right)
Reimagining and updating the game has been an enormous task! I am exhausted and exhilarated. Recently, I was gabbing on about the awesomeness of IQ Fun Pack to a friend. She said, "Wow, that game must really be something because you never gush about anything." It's true; I'm no gusher. But I know this game is going help parents and kids so much that I'm delighted and proud to the point of tears about it. So rather than listen to me kvell as I've been doing to my friends ("kvell" is Yiddish for boasting with pride), I'll let the parents who bought the original game (which you still get in IQ Fun Pack!) share their experiences:
Kids love playing it. Rupe, a Chicago mom said, "We received the game yesterday. My almost 4-year-old CRIED when we put it away and begged to play more. Amazing! We have done so many workbooks with her (Brain Quest, World Almanac, Kumon, etc.) and she has never reacted to anything like this." Melissa, a NYC mom said, "My 6-year-old son who is not easily entertained asks to play every day!"
It makes kids smarter. Danielle from California reported, "Playing the game regularly made higher order thinking a part of our lives. Our children now create, evaluate, analyze and apply information without me even asking them to." Brenda, an LA mom said, "My 4- and 5-year-olds analyze and discuss their problem solving strategies in sentences now. The game is worth the investment for your children's language development alone." Charul, a Chicago mom says, "As a result of playing the game, my child has started to think analytically and critically."
Kids who play score high on tests and get into great schools. Parents report this over and over again. Victoria, a Chicago mom, said "My daughter scored 99th percentile on the Classical Test." Larry, a Texas dad said, "His full scale core was 99.7! He got into St. John's School…they had over 900 applicants for 42 spots. I am so proud of him!" Grace, a North Carolina mom said, "She got a composite score of 135 on the WPPSI which qualified her a charter school for highly gifted kids in Charlotte!" Note from Karen: Results will vary of course, but If you spend time each day doing the right kinds of activities with your child (i.e. the learning activities in IQ Fun Pack), it will make an enormous difference in your child's test and school performance!
It helps kids know what to expect on tests. Jonathan, a NYC dad said, "Exposure to the types of questions to be asked is key. If a child does not understand what is being asked; how can they score well? The game gives us something constructive and fun to do to prepare for the test. Melinda, from Florida reported that before IQ Fun Park, her daughter scored in the 92nd percentile on an IQ test. She and her husband felt the child had missed questions because she didn't understand what the tester meant. After using IQ Fun Park for 4 months, the child scored in the 99th percentile on a different IQ test.
Is your child's educational future is worth $297? Tina, from NYC said, "The game saved us money. We'd been taking our son to an expensive tutor, which we no longer need because of your website and game. Kristen, from Florida said that she was initially embarrassed to tell a friend how much she had spent on the game until her friend told her they were spending hundreds of thousands of dollars to move to a house in a different school district to give their daughter a better education. Other parents have reported using the game to help their child earn a "golden educational ticket" to a coveted public gifted and talented program instead of paying for an expensive private school. Note from Karen: Even if you aren't applying to a competitive program and just you want to use IQ Fun Pack to build your child's skills for school, you are getting an entire kindergarten prep program – over 25 games and activities – in one convenient box! If you were to buy 25 educational games for $20 each, that would cost $500 (and they would take up a lot of space) – so $297 for IQ Fun Pack is an excellent value!
These parents were sharing their experiences with our original game – which you still get in IQ Fun Pack – but you now you get so much more! We've added more questions to prepare for more tests, more-hands-on skill building activities and games, kid-friendly animations and music, new rewards for your child and more. So please forgive my kvelling, but I am so proud of our revised and improved IQ Fun Pack. And just imagine your son or daughter acing an important test or earning top grades in school all because you decided to take action now, while they are young, to help them learn and grow!
To save $100 on IQ Fun Pack, top 1% yearly members of TestingMom.com can get $100 off instantly by using the code FUNPACK100 at check out. If you aren't a top 1% member of TestingMom.com, join today –  – the $100 off the Fun Pack will practically cover your entire yearly membership.  Learn more about IQ Fun Pack.
Share this article
Tell us about your experiences