Best Methods for AABL Test Prep
Know How the Test Works
To best prep your Child for the AABL, help your child know how the test system works. The graphics below show how to navigate through the test. It would be good to familiarize your child with these two arrows below.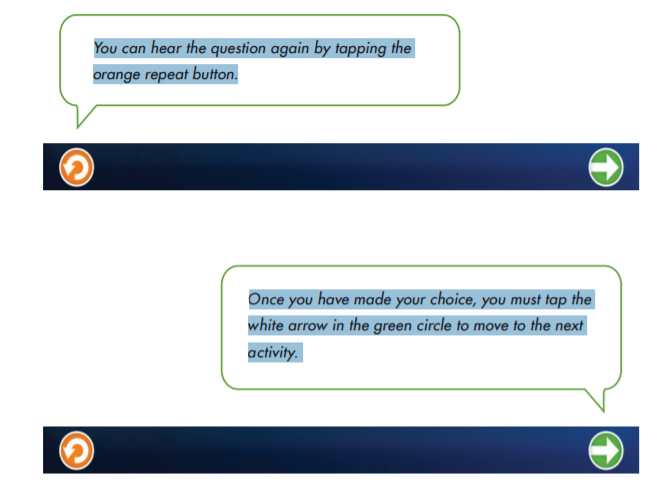 Preview Videos
View the online demonstration videos below. These videos were created to help provide parents with:
Insight into the types of questions that are included on AABL.
A demonstration of an iPad administration.
An opportunity to view what AABL iPad screens look like.
A demonstration of the physical responses required for AABL (tap answer, touch screen, drag and drop).
The questions in the demonstration videos are not the same ones that your child will find on the real assessment, but they are similar to those questions and have been written by the same people who wrote the actual AABL items.
Please be sure to pay particular attention to all the directions given in the videos, especially the computer navigational directions, as AABL is administered on an iPad and could be unlike any experience your child may have had in the past. The demonstration videos are not intended for coaching or prepping for AABL. ERB recommends that parents watch the videos with their child to provide additional explanations of the questions and answers. AABL may not be taken for practice; it may be taken only for the purpose of providing scores to participating schools as part of the admission process.
Pre-K Video
Kindergarten Video
1st Grade Video
Admission Assessment for Beginning Learners® (AABL®) is a registered trademark of the Educational Resource Bureau (ERB) or its affiliate(s), or their licensors. TestingMom.com is not affiliated with nor related to the Educational Resource Bureau (ERB) or its affiliates ("ERB"). ERB does not sponsor or endorse any TestingMom.com product, nor have TestingMom.com products or services been reviewed, certified, or approved by ERB. Trademarks referring to specific test providers are used by TestingMom.com for nominative purposes only and such trademarks are solely the property of their respective owners.
Tell Us Your Experiences