AABL Test Prep Methods for Higher Scores
Get started with all of the AABL test prep materials available on TestingMom.com below.


100 Free Practice Questions
Frequently Asked Questions – FAQs
When can my child take the test?
Children must be a minimum of 4 years old at time of testing.
How is this test administered?
This test is given through the use of an Ipad (see below for a walk-through of how it is administered).
Should I have my child practice with an Ipad before the test?
While your child will have the opportunity to perform some practice problems before the actual test starts, it does help to familiarize them with one.
To best prep your Child for the AABL, help your child know how the test system works. The graphics below show how to navigate through the test. It's important to familiarize your child with these buttons so they understand how the test works.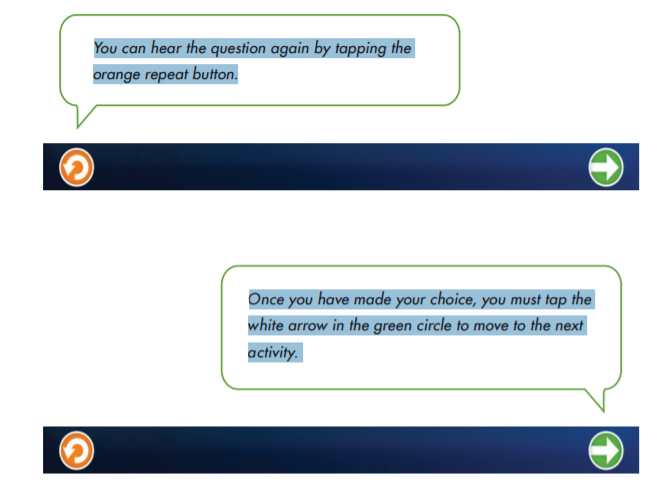 AABL Applicant Videos by Grade Level
View the online demonstration videos below. These videos were created to help provide parents with:
Insight into the types of questions that are included on AABL.
A demonstration of an iPad administration.
An opportunity to view what AABL iPad screens look like.
A demonstration of the physical responses required for AABL (tap answer, touch screen, drag and drop).
The questions in the demonstration videos are not the same ones that your child will find on the real assessment, but they are similar to those questions and have been written by the same people who wrote the actual AABL items.
Please be sure to pay particular attention to all the directions given in the videos, especially the computer navigational directions, as AABL is administered on an iPad and could be unlike any experience your child may have had in the past. The demonstration videos are not intended for coaching or prepping for AABL. ERB recommends that parents watch the videos with their child to provide additional explanations of the questions and answers. AABL may not be taken for practice; it may be taken only for the purpose of providing scores to participating schools as part of the admission process.
AABL Pre-K Applicants: What to Expect
AABL Kindergarten Applicants: What to Expect
AABL 1st Grade Applicants: What to Expect
100 Free Practice Questions
See if TestingMom.com supports your child's test by your school district. If you don't see your child's school district listed, check with us! We have practice for other tests as well.