CATS (Collaborative Academic Testing Service) Overview
Established in 2004, the CATS (Collaborative Academic Testing Service) is a test administered to students for admission to certain private schools in the Dallas and Houston Areas.
100 Free Gifted Practice Questions
For the 2023 – 2024 school year, schools requiring the CATS testing are:
DALLAS AREA
HOUSTON AREA
The CATS test is one part of the school admissions process. It is a cognitive test and gives the school information about the student's level of intellectual functioning. The test is administered by a licensed psychologist who enjoys working with preschool and school-aged children.
The tests administered by CATS are the Wechsler Preschool and Primary Scale of Intelligence (WPPSI)(ages 2:6 – 7:7) and the Wechsler Intelligence Scale for Children (WISC)(ages 6:0 – 16:11). These cognitive tests assess thinking skills rather than academic skills.
The Collaborative Academic Testing Service (CATS) is a comprehensive testing program designed to assess students' academic skills and knowledge in various subject areas. The CATS test is designed to help educators evaluate and compare students' academic performance, identify strengths and weaknesses, and guide instruction to better meet students' needs.
The CATS test covers several subject areas, with questions designed to evaluate students' abilities in each of these domains:
Reading Comprehension: This section focuses on assessing a student's ability to understand and interpret written passages. Questions may include identifying main ideas, making inferences, drawing conclusions, and understanding the author's purpose.
Mathematics: This section evaluates a student's mathematical knowledge and problem-solving skills. Questions cover topics such as arithmetic, algebra, geometry, and data analysis. Students are required to solve problems, perform calculations, and interpret graphical representations.
Science: This section measures a student's understanding of scientific concepts and their ability to apply scientific reasoning to solve problems. Questions cover topics from various fields of science, including biology, chemistry, physics, and earth science.
Social Studies: This section assesses a student's knowledge of history, geography, government, and economics. Questions may require students to analyze maps, charts, and graphs, as well as understand historical events and interpret social science data.
Language Arts: This section evaluates a student's understanding of grammar, punctuation, sentence structure, and vocabulary. Questions may involve identifying errors, correcting sentences, and choosing the most appropriate words or phrases.
Writing: This section assesses a student's ability to effectively communicate ideas through written language. Students may be asked to write essays, short answers, or other forms of written responses to prompts or topics.
Overall, the CATS testing aims to provide educators with a comprehensive understanding of a student's academic abilities, thus allowing them to better support each student's educational journey.
Are you looking to prepare your child for the CATS Test? TestingMom.com has thousands of practice questions to familiarize your child with the types of questions on the WPPSI and WISC tests. Become a member to receive instant access to over 1700 WPPSI-IV practice questions and 4500 WISC-V practice questions! Try us out by accessing our 100 free questions!
Get FREE CAT Practice Questions!
Free WPPSI Sample Practice Test Questions:
Matrix Reasoning
Parents Say: "Look at the pictures in the four boxes. Do you see how the pictures on top go together in some way? Now, look at the picture in the box on the bottom next to the empty box. Choose the picture from the last row that goes in the empty box so that the pictures on the bottom go together in the same way as the pictures on top."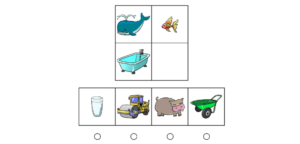 Answer: 1st bubble
Information
(Read the question out loud. Have your child point to the answer.)
Which person is telling a secret?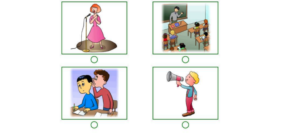 Answer: bottom left
Free WISC Sample Practice Test Questions:
Arithmetic
Jenny bought the pizza you see in the first box. She ate half of it. Which picture shows how much pizza was left after she ate it?

Answer: 1st bubble
Visual Puzzles
Parent, say to your child: "Look at the shape on top. That is a completed puzzle. Choose the 3 pieces below that combine to complete the puzzle."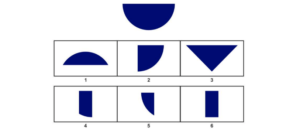 Answer: 2, 4, 5
Want to try us out? Sign up for a free account today and get 100 free practice questions.
100 Free Gifted Practice Questions
See if TestingMom.com supports your child's test by your school district. If you don't see your child's school district listed, check with us! We have practice for other tests as well.