CCAT Practice Questions
Wondering what kinds of questions your child will be asked on the CCAT™?
Here is a practice test with five examples.
IMPORTANT: While the CCAT sample questions shown on this page are representative of what your child will see on the exam, they aren't taken directly from the actual test that's being administered this year.
CCAT™ Sample Question #1
Look at the figures in the boxes on top. Do you see how they are related to each other? Can you find the answer that goes in the empty box so the figures in the bottom row will relate to each other in the same way as the figures in the top row?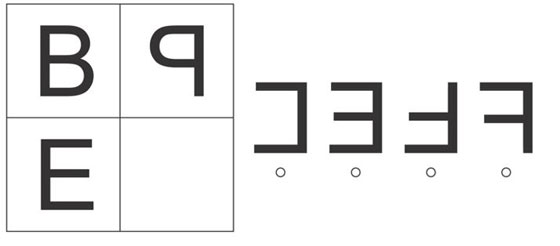 CCAT™ Sample Question #2
Look at the abacus below. The beads form a pattern. The beads for the 6th rod are missing. Choose the rod that goes in the 6th place to complete the pattern.

CCAT™ Sample Question #3
Choose the word that best completes the sentence below.
There were many apple and pear _______ on the farm that needed to be harvested.
A. clusters
B. vineyards
C. valleys
D. meadows
E. orchards
CCAT™ Sample Question #4
Take a look at the pictures across the top. They show a piece of square paper being folded. Then, one or more holes are punched in the folded piece of paper. Can you choose the answer that shows what the square piece of paper will look like when it is unfolded?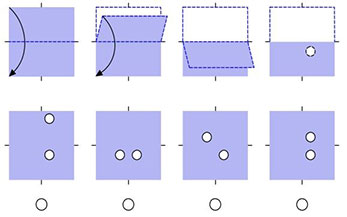 CCAT™ Sample Question #5
Look at the shapes in the boxes across the rows and up and down the columns. Touch the answer that goes in the empty box so the designs inside the rows and columns follow a pattern or rule.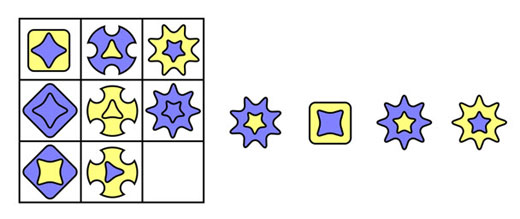 Answers: 4th from Left, 2nd from Left, E, 4th from Left, 3rd from Left
If you're interested in more CCAT practice questions from TestingMom.com, visit the following links:
Canadian Cognitive Abilities Test™ (CCAT™) is a trademark of Nelson Education, or its affiliate(s), or its licensors. TestingMom.com is not affiliated with nor related to Nelson Education or its affiliates ("Nelson Education"). Nelson Education does not sponsor or endorse any TestingMom.com product, nor have TestingMom.com products or services been reviewed, certified, or approved by Nelson Education. Trademarks referring to specific test providers are used by TestingMom.com for nominative purposes only and such trademarks are solely the property of their respective owners.
Tell Us Your Experiences
3 Responses
LIZZA says:
elishbath says:
B says:
Meh. Mensa test, light version…