Iowa Test 8th Grade Sample Questions
If you and your child have wondered what kinds of questions will appear on the 8th grade ITBS, below are some examples! These sample questions should provide you with a better idea of the quantitative and qualitative skills that your child should focus on and demonstrate during the exam. Each practice question will reflect a specific subtest that your child will come across.
During the 8th grade ITBS, sections such as "language and spelling" will increase in difficulty; the student is expected to identify an incorrectly spelled word. When dealing with more complex vocabulary,  the student will have to  focus on familiarizing themselves with the spelling of words during their study sessions. Flash cards and active reading will help build the necessary vocabulary skills for ITBS success. Practicing grammatical skills with your child will also greatly benefit their performance. Many of the questions look for a subtle understanding of grammar as well as punctuation.
As you are going through the practice questions, you will observe that each test level within the ITBS consists of a series of subtests that fall under specific content sections. Sections in the ITBS for third to eighth grade (levels 9-14) include:
Vocabulary test
Word Analysis (3rd grade, level 9 only)
Listening (3rd grade, level 9 only)
Reading/Reading Comprehension
Spelling, Capitalization, Punctuation, Usage and Expression
Mathematics Concepts and Estimation, Problem Solving, Date Interpretation, Computation and Social Studies
Science
Sources of Information (Maps, Diagrams, Reference Materials)
100 Free Gifted Practice Questions
1.) Language (Spelling)
For this section, each question will have a list of words. If one of the words is spelled wrong, fill in the circle next to that word. If none of the words are spelled wrong, fill in the last circle that says "no error".

  specimen


  disintegrated


  inhospitable


  vanquish


  no errors
2.) Mathematics
This test will measure how well you understand math. Use scratch paper if you need to.
Muhummad is writing survey questions about people's vegetable-eating habits during the day. Which question below is a statistical question he should include in his survey?
a) Do you eat vegetables?
b) Do you like spinach?
c) How many servings of vegetables do you eat during the day?
d) How many vegetables do you buy at the store or market each week?
3.) Reading Comprehension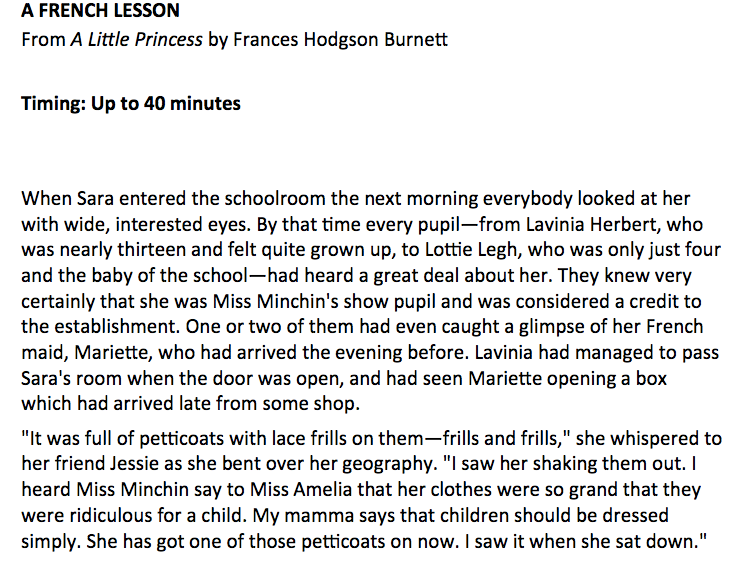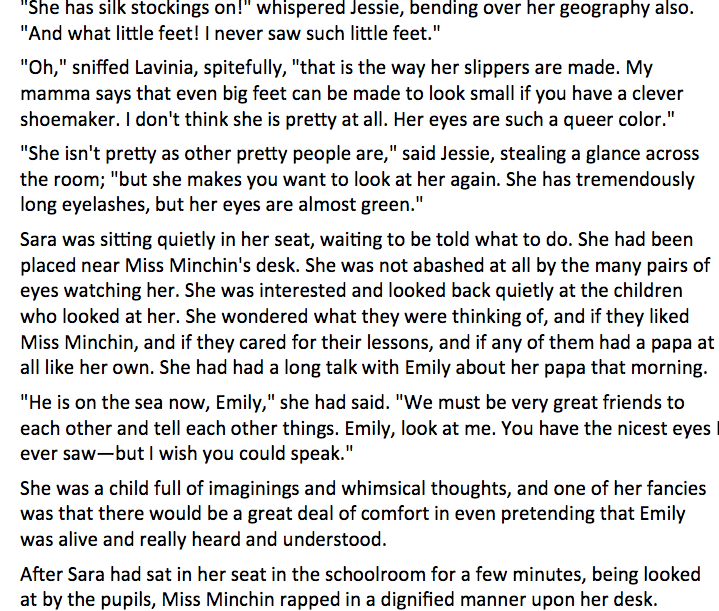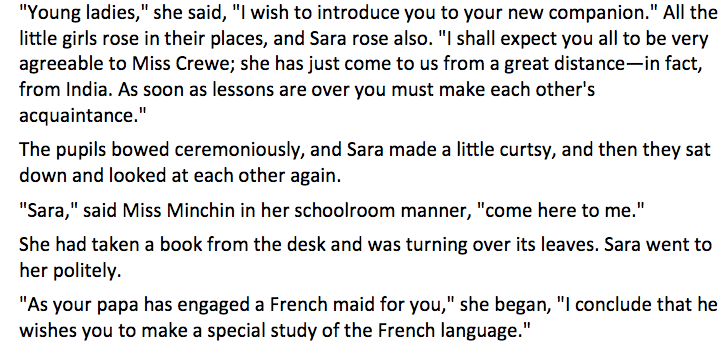 How does Sara's character development contribute to the plot?
a) Her Indian culture makes Sara's everyday speech and actions seem rude to those in her new home.
b) Her high social status leads oth classmates and her teacher to treat her with favoritism.
c) Her wealthy, worldly upbringing creates conflict with other children and leads to a misunderstanding with her teacher.
d) Her inability to understand French causes Sara's teacher to hold a grudge against her and other students to whisper rudely about her.
4.) Mathematics
This test will measure how well you understand math. Use scratch paper if you need to. Choose the answer you think is best.
Jamal is creating a scale drawing of his home. The first floor has an area of 1,200 square feet. He plans to scale down the length of the sides from 10 ft. to 1 in. What is the area of the scale drawing?
a) 120 square feet
b) 12 square feet
c) 120 square inches
d) 12 square inches
5.) Language (Punctuation)
For the next group of questions, read the first 3 lines to yourself. You will notice that some of the sentences need punctuation corrections. Look for mistakes with commas, semicolons, quotation marks, apostrophes and so on. Mark the circle in the row of words that contains a mistake with the punctuation. If there is not a mistake, fill in the circle that reads no errors.

  I remember that our old house the one


  in Jacksonville, has green shutters and


  a red door. I miss that place.


  no errors
Answers:
1.) e, no errors
2.) c, This response is correct. The student may have realized that there is a range of possible answers that will shed life on the habits of the population surveyed.
3.) c
4.) d
5.) 1, I remember that our old house, the one

100 Free Gifted Practice Questions
See if TestingMom.com supports your child's test by your school district. If you don't see your child's school district listed, check with us! We have practice for other tests as well.