Iowa Test 4th Grade Sample Questions
If you and your child have wondered what kinds of questions will appear on the 4th grade ITBS, below are some examples! These sample questions should provide you with a better idea of the quantitative and qualitative skills that your child should focus on and demonstrate during the exam. Each practice question will reflect a specific subtest that your child will come across.
As you are going through the practice questions, you will observe that each test level within the ITBS consists of a series of subtests that fall under specific content sections. Sections in the ITBS for third to eighth grade (levels 9-14) include:
Vocabulary test
Word Analysis (3rd grade, level 9 only)
Listening (3rd grade, level 9 only)
Reading/Reading Comprehension
Spelling, Capitalization, Punctuation, Usage and Expression
Mathematics Concepts and Estimation, Problem Solving, Date Interpretation, Computation and Social Studies
Science
Sources of Information (Maps, Diagrams, Reference Materials)
100 Free Gifted Practice Questions
1.) Language (Spelling)
For this section, each question will have a list of words. If one of the words is spelled wrong, fill in the circle next to that word. If none of the words are spelled wrong, fill in the last circle that says, "no error."
Note: The misspelled word is indicated in bold. If your child makes mistakes in this section. show him how to look up the correct word in a dictionary.

  portrait


  field


  chillyest


  sheriff


  no error
2.) Math
Please tell your child to read the question and circle the best answer.
Wanda graphed the inches of snow over 8 weeks. How many inches of snow most likely fell during week 7?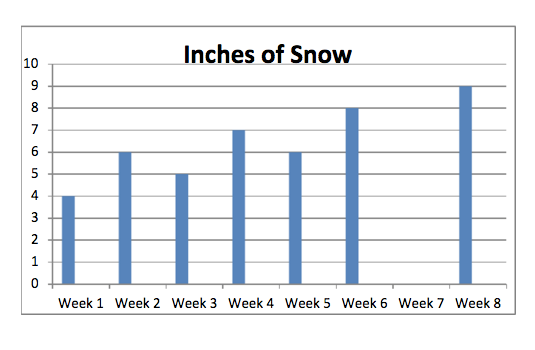 a) 8 inches
b) 7 inches
c) 5 inches
d) 6 inches
3.) Vocabulary
This practice test is words and what they mean. Look at the phrase and the underlined word Then mar the word in the list below that has practically the same meaning as the underlined word.
a considerable amount of time

  insignificant


  small


  large


  itsy
4.) Language (Capitalization)
For this next group of questions, read the first 3 lines to yourself. You will notice that there may be a mistake in capitalization. If there is a mistake, mark the circle in front of the line that contains the capitalization mistake. If there is not a mistake, fill in the circle that reads "no errors."

  Last night, my Counselor surprised us


  with pizza after lights out. We ate our


  midnight snack by flashlight


  no errors
5.) Mathematics
Please tell your child to read the question and circle the best answer.

Each face of the cube has surface area equal to 3 inches squared. How much more surface area do the two cubes on the left have than the prism on the right?
a) 3 inches squared
b) 6 inches squared
c) 10 inches squared
d) 2 inches squared
Answers:
1.) Option 3 (Chillyest- chilliest)
2.) b.
3.) Option 3 (large)
4.) Answer: counselor
5.) b.

100 Free Gifted Practice Questions
See if TestingMom.com supports your child's test by your school district. If you don't see your child's school district listed, check with us! We have practice for other tests as well.