WIAT®-III (Wechsler Individual Achievement Test®-Third Edition )
The WIAT®-III (Wechsler Individual Achievement Test®-Third Edition) is an individually administered test that takes about 30 to 90 minutes. It us used for ages 4 years and up. Specifically the WIAT is used to measure the strengths and weaknesses of your child, so that the school may determine need for special support or notice stand-out skills in specific areas for gifted and talented programs, especially for children who are twice exceptional (refers to intellectually gifted children who have some form of disability).
There are 16 subtests to measure the 8 areas of achievement specified by US federal legislation (IDEA) to identify and classify learning disabilities.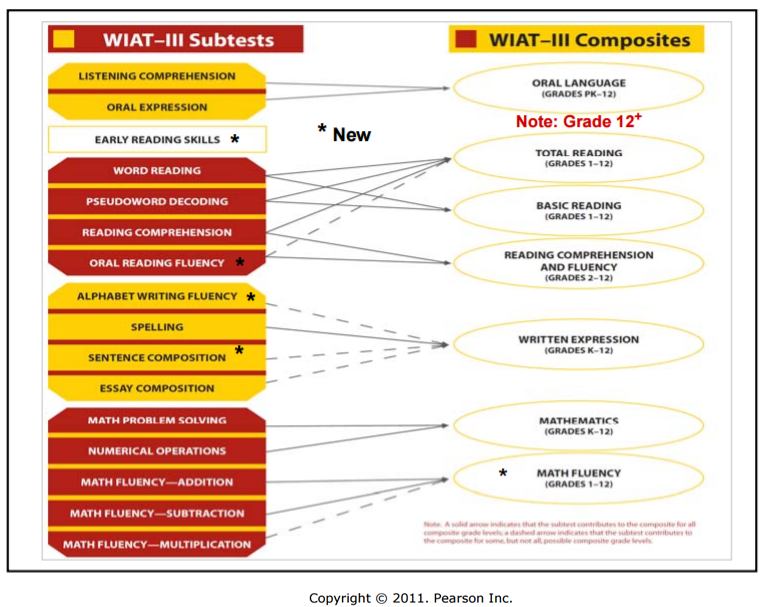 To get started with all of the WIAT testing material offered by Testing Mom, check out our 100 Free Questions.
100 Free Practice Questions

Here is a list of the subtests found on the WIAT-III test. 
Listening Comprehension
Oral Expression
Early Reading Skills
Word Reading
*Pseudo word Decoding
Reading Comprehension
Oral Reading Fluency
Alphabet Writing Fluency, Spelling
Sentence Composition
Essay Composition
Math Problem Solving
Numerical Operations
Math Fluency – Addition
Math Fluency – Subtraction
Math Fluency – Multiplication
Here is a list of the composites found on the WIAT-III test.
Oral Language Total Reading
Basic Reading
Reading Comprehension
Fluency
Written Expression
Mathematics
Math Fluency
Total Achievement
*Pseudo word decoding is reading a variety of nonsense words, where the your child must apply his or her phonetic knowledge to sound out unfamiliar words. This subtest is a good indication of reading problems such as dyslexia.
Wechsler Individual Achievement Test® – III (WIAT®-III) are trademarks of Pearson Education, Inc or its affiliate(s), or their licensors. TestingMom.com is not affiliated with nor related to Pearson Education, Inc. or its affiliates ("Pearson").  Pearson does not sponsor or endorse any TestingMom.com product, nor have TestingMom.com products or services been reviewed, certified, or approved by Pearson.  Trademarks referring to specific test providers are used by TestingMom.com for nominative purposes only and such trademarks are solely the property of their respective owners.
Tell Us Your Experiences