Cobb County School District Gifted Testing
What are the Cobb County School District Gifted and Talented Programs?
Cobb County School District offers a Gifted Learner Program for students in 1st through 12th grade. The program focuses on emphasizing critical and creative thinking, higher-order reasoning, and advanced and accelerated academics.
The identification process has three steps:
Referral
Assessment
Determination of eligibility
A referral can come from teachers, parents, or the student. Students may also be identified through district-wide screening. Currently, this screening is done in K, 1st, 3rd, 5th, 7th, and 8th; however, a child in any grade may be referred for further assessment.
Assessments for the Cobb County School District Gifted Learner Program
Assessment consists of testing in four areas. These areas are:
Mental ability
Achievement
Creativity
Motivation
Start preparing your child now with our 100 free questions:
100 Free Practice Questions
Each area requires the administration of different tests. Tests used include the CogAT, NNAT, Iowa, and Torrance Creativity Test. The relation of each test to the district's testing area can be seen in the image below.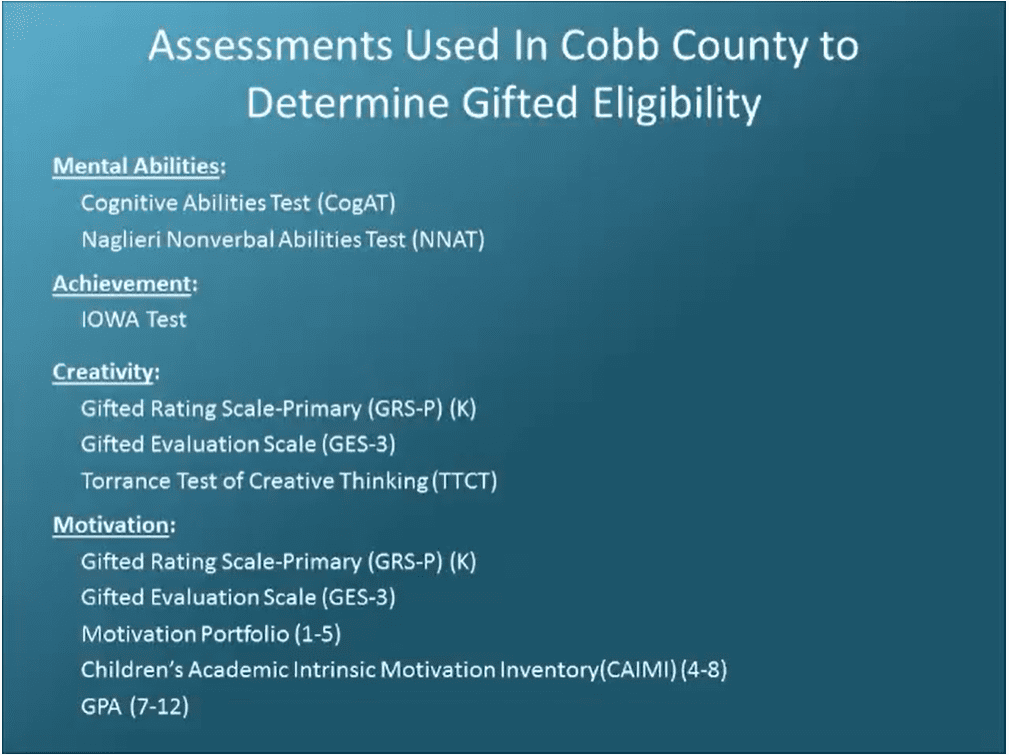 The CogAT is currently administered in 1st, 3rd, and 7th grades. The Iowa test is administered in the 3rd, 5th, and 7th grades. Scores from both tests are valid for two years.
Testing Mom offers a comprehensive online program with practice test questions, one-on-one expert tutoring sessions, and group classes that cover all the concepts on the CogAT, NNAT, and Iowa Test.
Required scores for the Cobb County School District gifted program eligibility
Determination of Eligibility can be met in two ways.
Option A: The student scores in the 99th percentile (K-2nd) or 96th percentile (3rd-12th) on the CogAT or NNAT (composite score only is used on both) AND scores in the 90th percentile in the total battery, total reading section, or total math section of the Iowa test.
Option B: The student meets eligibility requirements in three of four areas:
Mental ability – 96th percentile on the CogAT or NNAT approved component or composite score.
Achievement – 90th percentile on the Iowa total battery, total reading, or total math section.
Creativity – 90th percentile or 90% on a creativity assessment or rating scale.
Motivation – 90th percentile or 90% on a motivation evaluation or rating scale OR a GPA equivalent to a 3.5 on a 4.0 scale for 7th-12th grades.
Two or more rating scales cannot be used to determine eligibility. Kindergarten students who qualify will begin receiving services in the fall of 1st grade.
Details on the Cobb County School District gifted program
The elementary program places gifted students together in groups of 6-8 within a classroom. The classroom teacher collaborates with a designated gifted teacher to provide enhanced and faster-paced learning to the group.
Elementary students are also eligible to attend advanced content courses in reading/English Language Arts and math. These classes are for gifted and highly able students who have demonstrated exceptional ability in a particular content area. These classes are taught by qualified gifted teachers.
The middle school and high school programs also utilize cluster grouping and advanced content core content classes, including math and ELA. High schools may also offer honors classes, Advanced Placement/AP classes (9th – 12th grade), and/or International Baccalaureate/IB classes (11th and 12th grade). In these classes, students learn with peers of similar academic ability.
A Testing Mom membership offers hundreds of practice questions that will prepare your child for Cobb's Gifted and Talented program testing. Start preparing today!
100 Free Practice Questions
See if TestingMom.com supports your child's test by your school district. If you don't see your child's school district listed, check with us! We have practice for other tests as well.