Sample Fairfax County AAP Practice Questions
Wondering what kinds of questions your child will be asked on the CogAT (Cognitive Abilities Test) and NNAT (Naglieri Nonverbal Ability Test)? Here are four examples.
100 Free Gifted Practice Questions
IMPORTANT: While the CogAt sample questions shown on this page are representative of what your child will see on the exam, they aren't taken directly from the actual test that's being administered this year.
CogAT Sample Question #1 — Figure Matrices
Look at how the two figures on top work together. The third figure on the bottom must go with the fourth figure in the same way that the first two figures go together. Choose the fourth figure that belongs in the empty box to complete this puzzle.

CogAT Sample Question #2 — Verbal Classification
Guitar      Banjo      Harp
A. Trombone      B. Trumpet      C. Flute      D. Violin      E. Instrument
NNAT Sample Question #3 — Pattern Completion
Parent, say to your child: "Look at the puzzle." Point to the empty box and say, "something is missing." Ask your child which of these answer choices goes here.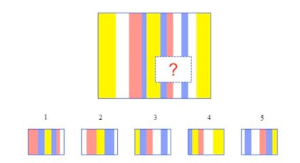 NNAT Sample Question #4 — Serial Reasoning
Parent, say to your child "Look at this puzzle". Inform your child that something is missing. Ask your child "which of these answer choices goes here?"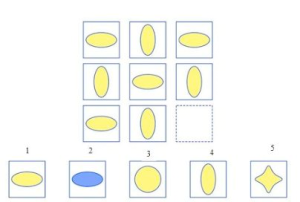 Answers: D, 4th from left, 3, 1
Additional NNAT Resources
Additional CogAT Resources
100 Free Gifted Practice Questions