Blog home
› CogAT Practice: Everyday Activities to Help with the Verbal Subtest Part 2
CogAT Practice: Everyday Activities to Help with the Verbal Subtest Part 2
posted by Karen Quinn, The Testing Mom - September 14th, 2017
Today's post is a continuation of last week's — CogAT Practice: Everyday Activities to Help with the Verbal Subtest. Today we'll be going over a few more tips for practicing for the CogAT Verbal Subtest. using every day activities. For a refresher on what the CogAT entails, check out our CogAT Overview Page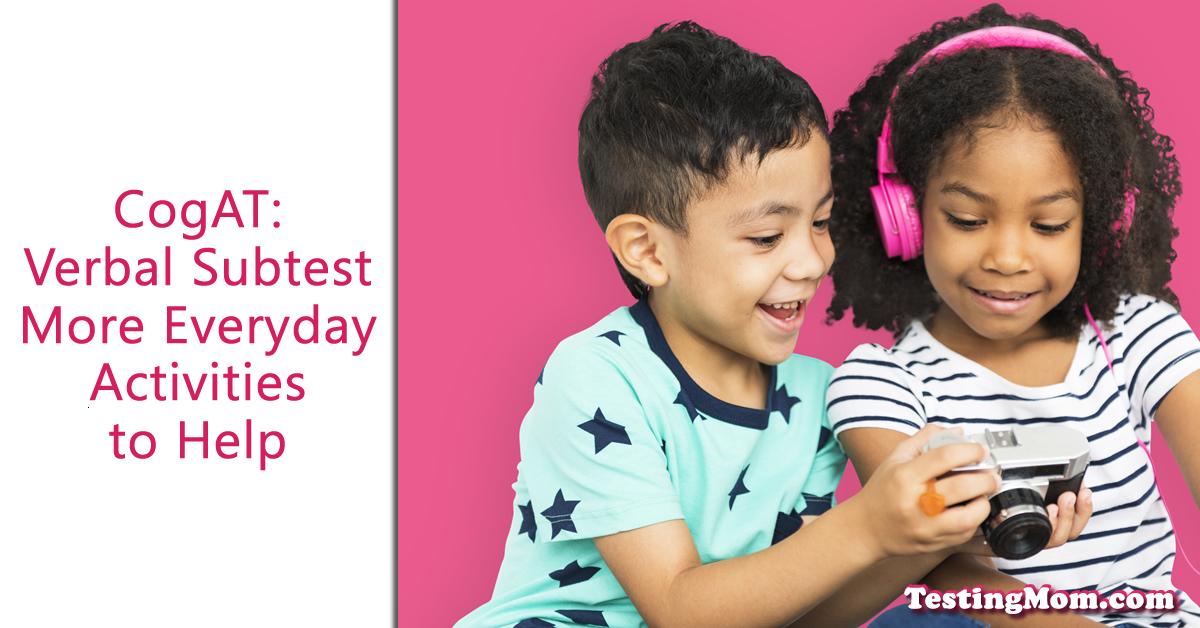 More Everyday Activities that Help Your Child With the CogAT
Take out the Scrabble Set!
We all remember Scrabble from our childhoods. This game has innumerable benefits when it comes to letter recognition, reading, spelling, as well as vocabulary. If you play with your child, try and form new words that they may not know. In this instance, they may be motivated to ask you what the word means or in which context it can be used. Once they know the definition of the word, they are now able to add the term to their cognitive "toolbox". Scrabble encourages strategy and problem solving as the student must be creative with their word choices. Sophisticated vocabulary can help to improve overall scores as well as a healthy form of competition among players. I cannot neglect to mention that Scrabble has fantastic benefits for social development. The game has the ability to promote unity among family and friends, while also encouraging teamwork and support.
Identify Similarities and Differences Across Your Environment
Don't be afraid to think of your home in addition to the outside world as another classroom. The CogAT loves to focus on the categorization of animals, plants, tools, and shapes (just to name a few). Your child should begin getting used to points of overlap or separation between such objects. For example, if you are in the kitchen, you can ask your child what the similarities and differences are between a refrigerator and a freezer (similarities: both preserve freshness and keep items cold) (differences: the freezer is set at a colder temperature than the fridge). You can even have your child feel the textural differences between an avocado and apple. Ask them which object is rough and the other smooth. Point out size differences between dogs and other animals on the street. Soon these students may be making similar observations on their own. These experiences help the child to be aware of the large and small details in their environments.
The key is to be engaged with your child. Talk about everything! Ask questions to gauge your child's understanding. Most importantly, have fun!
As you can see, there's a lot to talk about when it comes to CogAT practice through everyday activities. These are only two things you can do to help practice for the verbal portion. I'll be back next week with a few more activities you can do to help prepare for the verbal subtest of the CogAT! For now, you can view more of our CogAT resources below:
More CogAT Resources
CogAT Test
Best Methods for CogAT Test Prep
Sample CogAT Practice Questions
How is the CogAT Test Scored
CogAT Faq for Test Success
Share this article
Tell us about your experiences