CogAT Scores: Understand Test Results
CogAT scoring is based on your child's age (not grade level). Your child will receive what's called an SAS, or "Standard Age Score," which compares your child's score against other children in the same age range. The highest SAS that a child can receive on the CogAT is 160, while 100 is considered to be an average score.

100 Free Gifted Practice Questions
Here are all the steps used to calculate a child's unique test score:
Raw Score. This is total number of questions answered correctly; however, incorrect answers do not cause points to be deducted from the overall raw score.
Universal Scale Score (USS). After the Raw Score is determined, it is converted to a normalized standard score known as the Universal Scale Score. There are separate USS scores for each of the test's three verbal, nonverbal and quantitative reasoning skills subsections (also called "batteries"). The Composite USS is determined by averaging these three different scores.
Standard Age Score (SAS). The Standard Age Score has a maximum possible score of 160; the average score is 100.
Percentile Rank (PR). School districts use this number to compare students that share the same age and grade level. A percentile rank of 80 means that child's score was higher than 80% of students who took the same test. The average percentile rank is 50.
Stanine (S). A stanine is a very broad, simplified score ranging from 1 (lowest) to 9 (highest possible), and it's normalized for the child's age and grade level.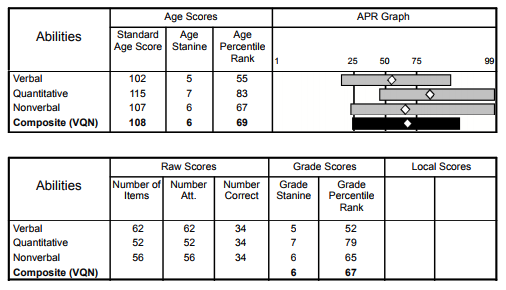 Each stanine is made up of a range of percentile ranks. The table below shows the percentile ranks that formulate each stanine and the associated ability level.
| Stanine | Percentile Rank | Description |
| --- | --- | --- |
| 9 | 96-99 | Very High |
| 8 | 89-95 | Above Average |
| 7 | 77-88 | Above Average |
| 6 | 60-76 | Average |
| 5 | 40-59 | Average |
| 4 | 23-39 | Average |
| 3 | 11-22 | Below Average |
| 2 | 4-10 | Below Average |
| 1 | 1-3 | Very Low |
Want to try us out? Sign up for a free account today and get 100 gifted and talented practice questions.
100 Free Gifted Practice Questions
See if TestingMom.com supports your child's test by your school district. If you don't see your child's school district listed, check with us! We have practice for other tests as well.