ITBS Language
The language section of the ITBS is intended to assess the comprehension, usage and grammatical awareness of speech and language. Younger children completing the language portion of the ITBS work on their ability to listen to, and understand the vocabulary used in a question. From there, they must use their knowledge of what is being asked to match the description of the question to the pictures. As children progress in age and skill level, questions will begin to target spelling, capitalization, punctuation, usage and expression. For example, students will have to identify a misspelled or grammatically incorrect option from the choices given. This task will often become harder as the vocabulary used grows in complexity. In order to prepare for this section, it is advised that students review (age appropriate) vocabulary flash cards. This will help familiarize them with the correct spelling and meaning of certain words. Additionally, a parent can create his or her own set of options for the student, so that they can identify the grammatical error from the list provided.
100 Free Gifted Practice Questions
Sample Question:
Read each story very slowly for the child. Have them look for mistakes with periods, commas, question marks, apostrophes and so on. Mark the circle in the row of words that contains a mistake with the punctuation.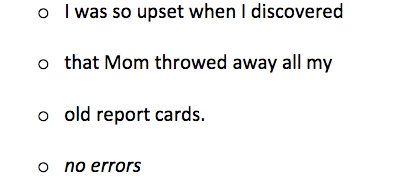 Answer: "That mom throwed away all my"
See if TestingMom.com supports your child's test by your school district. If you don't see your child's school district listed, check with us! We have practice for other tests as well.