ITBS Math
The math portion of the ITBS is consistent when it comes to the sub-categories that they present at each level. These topics include problem solving, data interpretation, computation, algebraic patterns, geometry as well as measurement. While the sub-categories remain the same, students at Levels 9-14 will receive a more advanced form of the exam. Specifically, the math subtest contains an increasing number of questions along with a time limit. The timing of the test corresponds directly to the level of the student. Additionally, the student will be required to compute topics such as fractions, decimals and algebraic formulas. Students in levels 7- 8 will also receive a computation test where they will be required to perform basic computations using whole numbers.
Preparation for the math section of the ITBS can be fun and engaging for your child. A website called "Funbrain" was created for children in grades pre-k through 8th grade. The site offers a variety of games, books, comics and videos that can help your child develop critical skills in mathematics. Additionally, it is highly recommended that the student go to the testingmom website and practice questions by grade level! This is a fantastic way to develop a sense of the content that they will encounter on the day of the exam. Not to mention, it will help him or her better understand their strengths and weaknesses.
100 Free Gifted Practice Questions
Sample Question:
Which multiplication shows how many holes are in these buttons?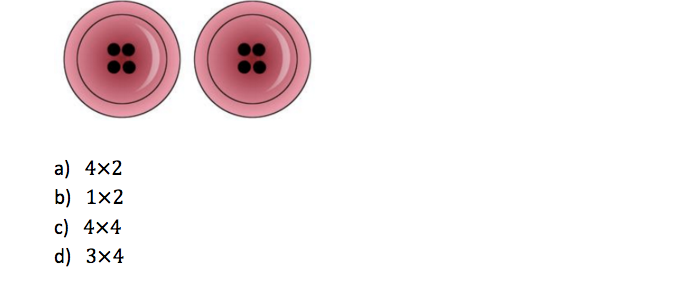 Answer: a
See if TestingMom.com supports your child's test by your school district. If you don't see your child's school district listed, check with us! We have practice for other tests as well.