ITBS Reading
The reading section of the ITBS encompasses a variety of skills that not only assess vocabulary usage, but a student's ability to fully comprehend what he or she is reading. This requires that the student thoroughly synthesizes a text in order to answer a series of questions. These questions will often target key ideas, definitions, explicit meaning, implicit meaning and author's craft. These sub-categories are specifically targeted in levels 7-18.  Younger students who are still learning to read will be assessed on comprehension and word recognition. For example, students will practice reading an incomplete sentence to themselves. After developing an idea of what the sentence is missing, they will choose a word that will help to complete the sentence. They are not only practicing their reading, but, also, their  comprehension skills.
When it comes to preparing for the reading section, students are advised to read as much as they can. Reading will assist in improving the student's vocabulary and his or her comprehension of a text. It is especially helpful if the parent or friend reads the book alongside the student. This way the student can discuss and analyze what he or she had just read. This conversation will improve the child's memory of the reading, while helping to focus on more subtle details. Younger students (and older students) will benefit greatly from practicing the "reading" practice questions on the Testing Mom website. Reviewing these questions will build the confidence of your student for this section of the ITBS.
100 Free Gifted Practice Questions
Sample Question:
Directions: Read the sentence to yourself. Fill in the circle beneath the picture that shows what the last word of the sentence was.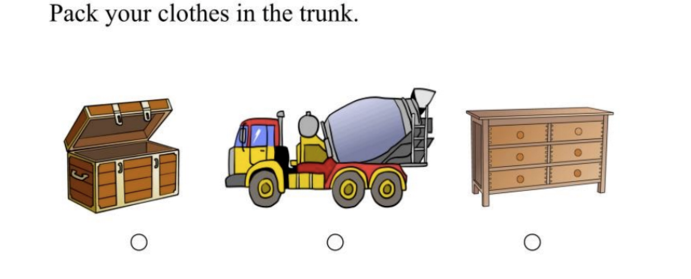 Answer: Option 1
See if TestingMom.com supports your child's test by your school district. If you don't see your child's school district listed, check with us! We have practice for other tests as well.