NNAT Pattern Completion
Pattern Completion
The Pattern completion section of the NNAT is intended to assess the student's ability to visually perceive a pattern within the context of a larger design. It is the student's job to correctly identify the missing area of the pattern in order to fully complete the design. The student must try his best to conceptualize which piece is missing as he is solely relying on the visual cues provided to him. It is advised that the student adopt a technique such as "trial and error" in order to visually test each answer choice. He should ask himself whether or not the missing piece satisfies the overall pattern. Students in kindergarten through twelfth grade will be tested on the pattern completion section of the NNAT.
Luckily, there are methods for preparing your child for this portion of the NNAT.  Do not be afraid to create your own interactive pattern completion activities at home! Begin by printing out an image of a pattern, similar to the "Jigsaw like" patterns that you have seen on the Testing Mom website. Next, take some whiteout and erase a small section of the image. It is your child's job to try their best to draw out the image that they think is missing. Although this may be a more challenging task for younger students, this activity will allow the student to create his own answer choice. You can then show your child the original image so that he can compare his drawing to the fully complete pattern. Additionally, you can visit the "interactive games" section on the Testing Mom website. The "Pattern Puzzlers" portion allows your child to practice pattern completion questions for the NNAT. The student is able to select a difficulty level below in order to customize the questions that he or she receives.
100 Free Gifted Practice Questions
Sample Question:
Parent: Say, ""Look at this pattern. There is a piece missing." Then point to the answer row. Say, "Can you point to the answer choice that would complete the pattern if you placed it over the question mark?"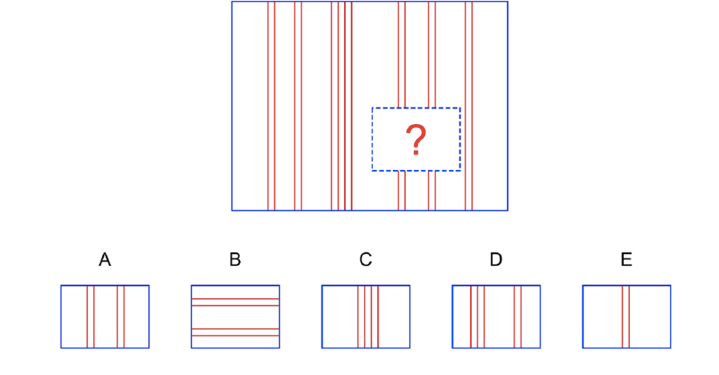 Answer: Choice A
See if TestingMom.com supports your child's test by your school district. If you don't see your child's school district listed, check with us! We have practice for other tests as well.