NNAT Spatial Visualization
Spatial Visualization
The objective of the "Spatial Visualization" section of the NNAT is to discover how two or more designs will appear once they are combined or rotated. Typically, each question has three pictures on each row. The third (or last) picture in each of the rows is created from combining the two previous pictures. Some questions in this section ask what a picture will look like after its folded, rotated, or changed in some way.
In order to further practice spatial visualization questions, it is advised that you and your child visit the " Interactive Practice and Games" section of the Testing Mom website. You will come across a game that says "Folding Questions".  This game allows your child to practice visualizing a figure once it is folded, or altered in some way. These questions are organized by grade level. Additionally, free practice questions can be found on the Testing Mom website! Below is a sample question from the spatial visualization section of the NNAT.
100 Free Gifted Practice Questions
Sample Question:
Parent, tell your child this: Look at the pictures on top. If you combine the first two, it would look like the third picture. Now look at the pictures in the bottom row. If you combined them the way the pictures on top were combined, it will look like one of the answer choices. Can you find the answer that shows what the two pictures in the bottom row will look like after they are combined?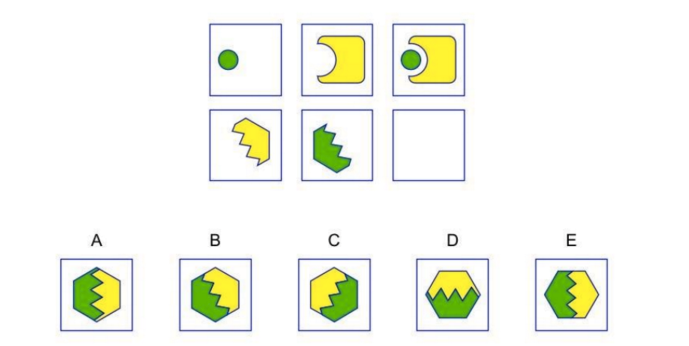 Answer: B
See if TestingMom.com supports your child's test by your school district. If you don't see your child's school district listed, check with us! We have practice for other tests as well.