CogAT 6th Grade Practice Test
The questions that your child will see on the sixth grade CogAT require that he can think critically and is able to evaluate all answer choices for each question. As students advance in grade level, they will be expected to perform computational processes such as addition, subtraction, division and multiplication. These functions are especially necessary for the "number puzzles" subtest. In addition, students are expected to have a solid grasp on order of operations when solving for a mathematical equation. One might say that these combination of skills require students to perform a mental "balancing act". For the verbal subtest, your child can continue working on his reading comprehension, vocabulary and their ability to categorize and draw similarities between words and concepts. Below are sample questions that are similar to the questions that your sixth grader will see on the CogAT.
100 Free Gifted Practice Questions
1.) Quantitative Battery: Number Puzzles
In this section, you will be given a mathematical equation. Choose the answer that should replace the ? or the

symbol.

2.) Non-Verbal Battery: Figure Classification
Parent say to your child: Tell your child to look at the first three figures. They go together in some way. Choose one more figure in the rest of the row that goes with the first three figures in the same way.

3.) Verbal Battery: Verbal Analogy
The first two words in the sentences below go together in a certain way. Choose the answer that goes with the third word in the sentence the same way that the first and second words go together

4.) Quantitative Battery: Number Series
Look at the numbers in each row below. There is a rule that governs the order in which the numbers occur in the series. Figure out the rule and then choose the number that comes next from the answer choices below.

5.) Non-Verbal Battery: Paper Folding
On the top row you will see how a square piece of paper is folded sometimes once, sometimes twice, sometimes three times. Holes are then punched after the paper has been folded. Choose the answer in the second row that shows how the folded piece of paper would look after it is unfolded.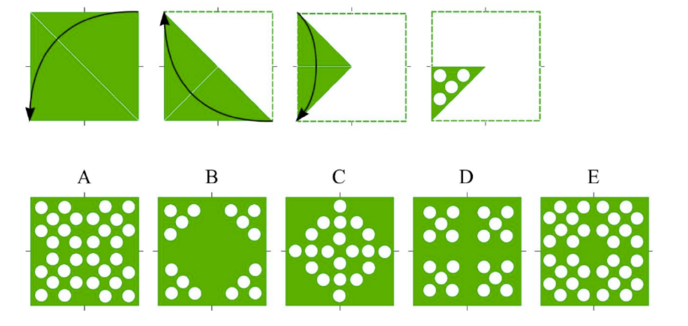 Answers:
1.)b. 16
2.) C- The exact same figures are always diagonally across from each other
3.) A
4.) D. 9.96 (Subtract 0.13)
5.) E

100 Free Gifted Practice Questions
See if TestingMom.com supports your child's test by your school district. If you don't see your child's school district listed, check with us! We have practice for other tests as well.